The Newcastle United Blog | Newcastle Scout in attendance as two targets clashed on Thursday
[ad_1]
Newcastle seem determined to land some South American gems early in the new year. Brazil has been a hunting ground rich in ties with Vasco da Gama duo Andrey Santos and Eguinaldo, and Santos striker Angelo Gabriel.
Last week, Argentinian journalist Agustin Sileo reported that Newcastle are keen on Velez Sarsfield midfielder Maximo Perrone, extending the reach to Argentina. The deep playmaker can be seen as an alternative to Andrey Santos.
Brazilian journalist Jose Passini revealed a few days ago that another Brazilian is on Newcastle's radar. sports witness has a report on Passini's revelation that Newcastle had scouted Botafogo striker Jeffinho.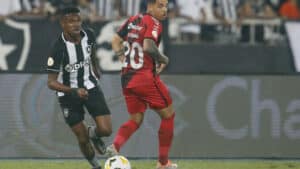 Like the aforementioned Eguinaldo, Jeffinho (pictured above in black and white) is a player who emerged from relative obscurity last year. The 22-year-old joined Botafogo, initially on loan, at the start of this season. He was signed for their B team but soon found himself in the first team making regular appearances.
His move was made permanent in August and he signed a three-year contract. For the season, which ends today, he has 25 appearances with 2 goals and 3 assists. Newcastle would have been on hand to watch him in their 3-0 win over Santos on Thursday. Angelo Gabriel also started the game for Santos.
Jeffinho continues to rack up admirers with his recent rise. Other unnamed English clubs have scouted the wide forward while Ajax, AZ Alkmaar and Werder Bremen were also recent entrants to watch the young prospect.
Here are some highlights, for those who can see them, of the game the Newcastle scout attended which featured Jeffinho and Santos striker Angelo Gabriel.
Loading…
[ad_2]
Source link