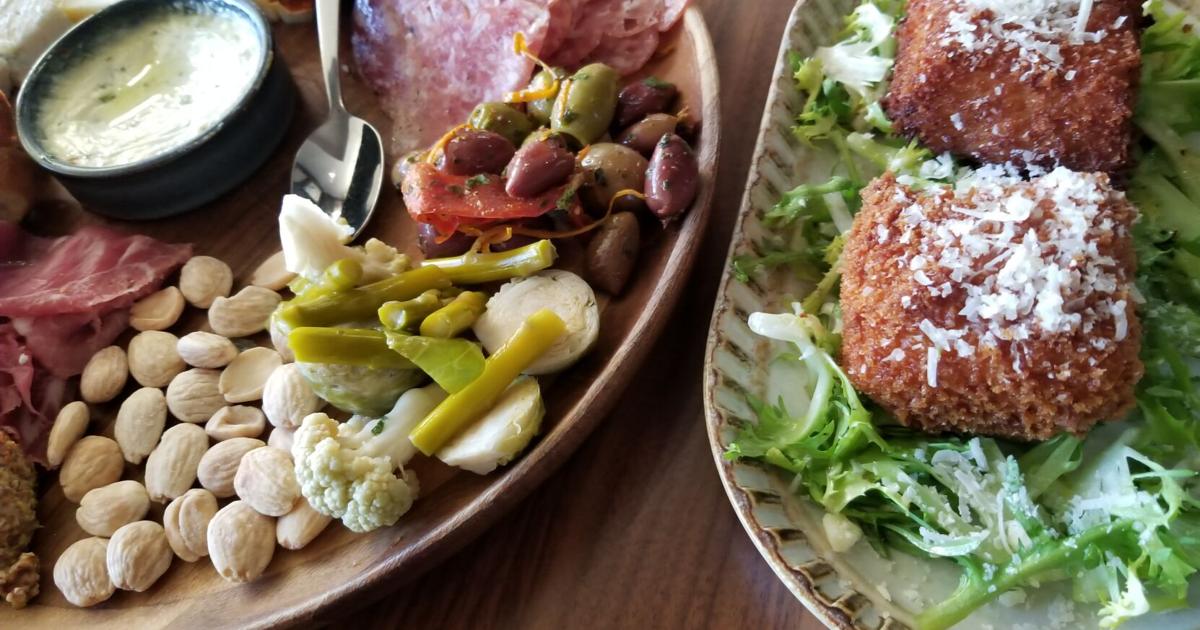 Shearwater Tavern's small plates hold big surprises. | Culinary blog
[ad_1]
It's possible to leave Shearwater Tavern confused, and thankfully.
Imagine a soup in which beef and onion strands compete for attention. They hang from the spoon, crumble on the palate and push into the foreground until the broth becomes a whirlwind of sweet, swarthy and slightly bitter notions. And it all takes place after breaking through a block of melted cheese that imparts nutty, toasty notes.
Wait a minute. Is that French onion soup loaded with meat?
Yes, Chef Wayne Brooks brings braised ribs to the classic bowl. And while it lands on the "Small Plates" side of the menu, the weight gained from red meat can make for a solid meal.
Another small plate consists of homemade "Shearwater Tots". So naturally, you plan on potatoes, grated and formed into bite-sized pieces piled on top of the dish.
You would be wrong.
Brooks' take on the tater tots defies the odds. What arrives on the table are a pair of oversized croquettes with a topping of whipped potatoes so creamy and delicate it melts. The crust offers a welcome crunch and a streak of smoky, nutty character that pairs well with slivers of Parmesan cheese sprinkled on top.
They are out of competition. What they share with the common tot, however, comes down to shape. Johannes Kepler would have a field day.
Why Kepler? Well, he was the one who first established the geometric calculations needed to define a barrel shape – technically a truncated elongated spheroid, we checked. The astronomer stumbled upon the equation while trying to figure out how many barrels of wine were needed to satisfy his wedding guests.
Kepler knew how to party with precision.
OK, I got a little lost.
The chef's Parker House rolls are, well, rolls, which is now a surprise. Again, it's nice. They're warm and fluffy, and when you spread them with honey butter, the fluffy sweetness seems to kiss the bread.
Shearwater offers a dry-aged beef burger and a selection of entrees. But the small plates menu is worth exploring.
Getting to the restaurant can be a bit of a headache, especially for those who tend to drive and are unfamiliar with it. Shearwater Tavern occupies a space inside the Carmel Mission Inn that used to be The Fuse Lounge. Although visible from Highway 1 if you're lucky enough to look away from the traffic, the place is tucked away behind a gas station and the entrance is a bit lost.
But it's a place to know, especially if you like a surprise or two.
Shearwater Tavern is located at the Carmel Mission Inn at 3665 Rio Road, Carmel. Dinner served from 4 p.m. to 10 p.m. from Tuesday to Saturday. 624-1841, shearwatertavern.com
[ad_2]
Source link