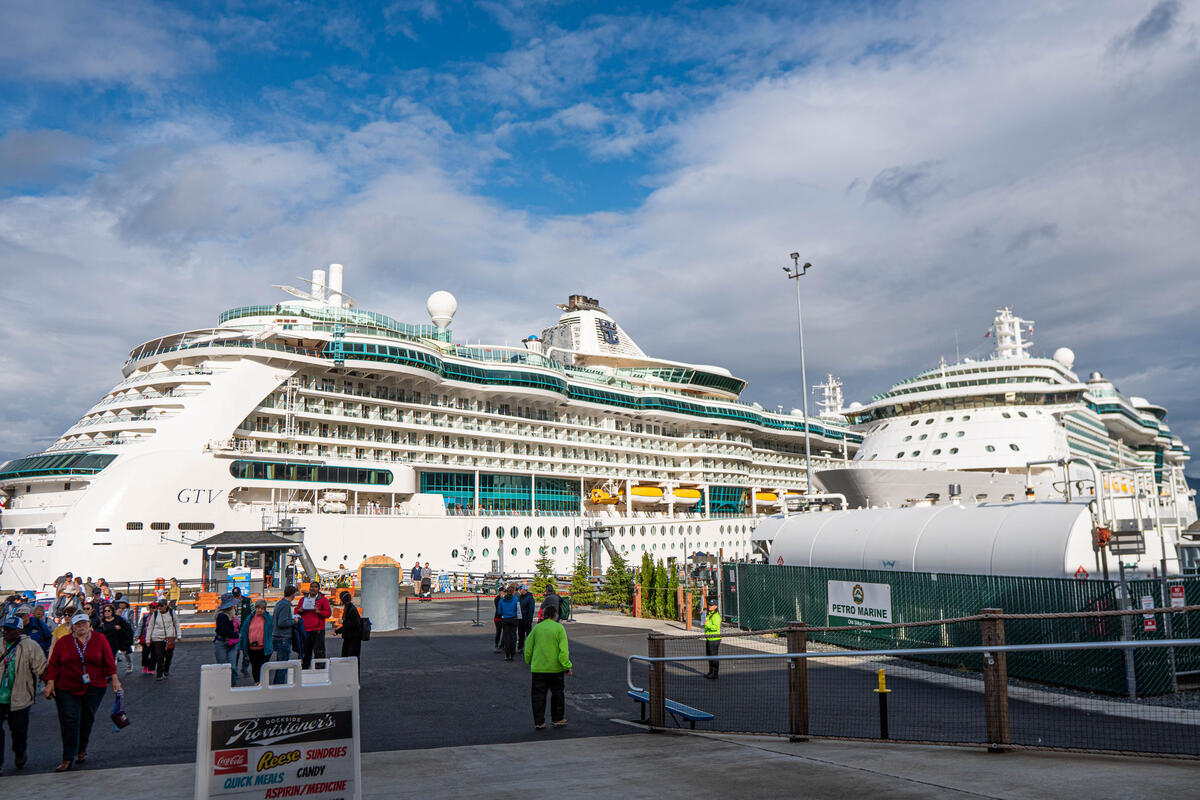 Radiance of the Seas Live Blog – Day 5 – Sitka, Alaska
[ad_1]
Today is the fifth day of my Alaska cruise and Radiance of the Seas docked in Sitka today for a full day of exploring another beautiful Alaskan port.
Sitka is the 4th largest city in Alaska, with a population of approximately 8,500 people. The city is the former capital of Russian Alaska and there are several Russian influences to be seen throughout the city, from historic buildings to monuments and souvenir shops.
Like other Alaskan cruise ports, the surrounding scenery is breathtaking in Sitka, and the Mount Edgecumbe volcano towers over the town.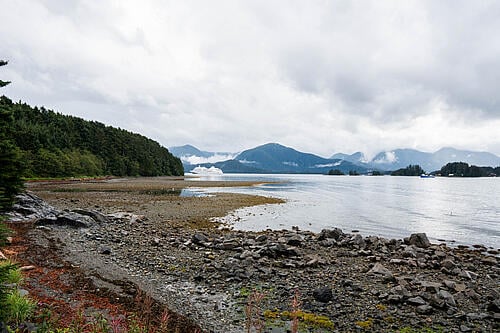 I was supposed to visit Sitka last year, but our port was changed to Ketchikan due to high seas, so I was thrilled to have the opportunity to visit today.
We had lunch today at the Windjammer, where I enjoyed another plate of my favorite breakfast: French toast topped with whipped cream and chocolate chips.
I also took my first views of Sitka. I will definitely miss the outdoor seating area of ​​the Windjammer!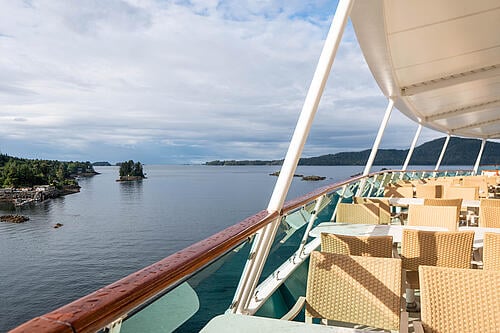 The Serenade of the Seas arrived in port as we were having breakfast. This is my first time seeing Serenade of the Seas and since Serenade is another Radiance class cruise ship, it looks identical to Radiance of the Seas.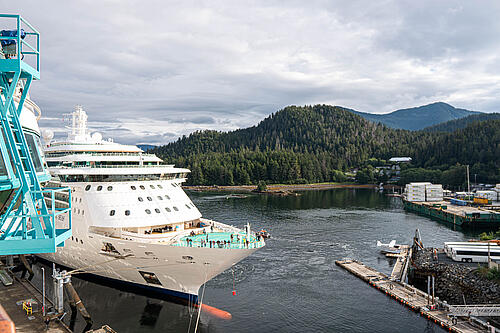 We disembarked from the ship around 9:30. The Sitka cruise port is located about 15 minutes from downtown, and free shuttles are available to transport guests to and from town.
I was worried that I would have to wait a bit to get on a shuttle, but the line only took about 5 minutes and we got to town quickly.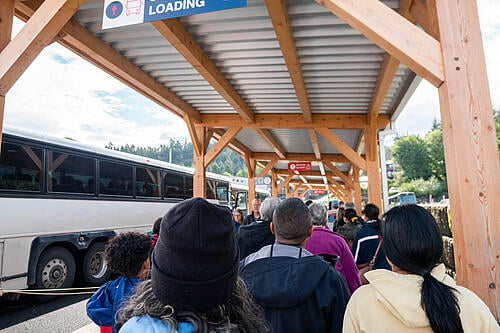 We haven't booked any excursions today. Most of Sitka's top attractions are all walkable from downtown, so we planned to explore on foot without a map and see where the day took us!
We started the day on Lincoln Street, Sitka's main tourist street. It was nice to see that the city blocks the street from cars, making exploring the street easy and safe for all visitors.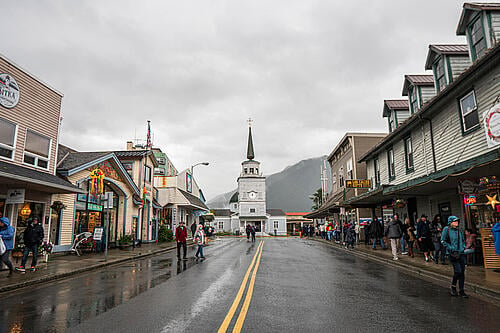 The street is lined with souvenir shops and local restaurants. Our first stop was at a Russian gift shop selling Christmas dolls and decorations. It was definitely more unique than the other souvenir shops I've visited so far in Alaska and the displays were beautiful.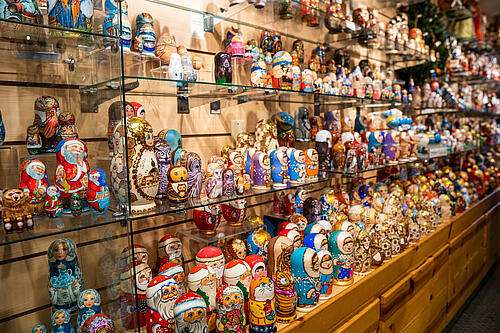 At this point, it wasn't raining too heavily, so we took advantage of the weather and hiked to the Baranof Castle State Historic Site, located off Lincoln Street.
This small hill is the site where the ceremonial transfer of Alaska from Russia to the United States occurred. Not only was it fascinating to stand where such an influential historical event took place, but the hill had the best views of Sitka I've seen all day.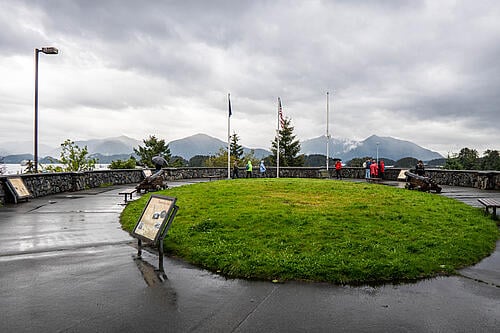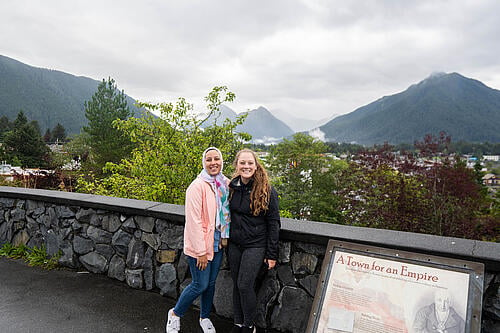 Sitka's mountain scenery is dramatic and absolutely stunning, with jagged peaks and rainforest towering over the town. I could have stood on the hill looking at the Sitka skyline for hours!
However, we are in Alaska, so the rain made us head back to Lincoln Street.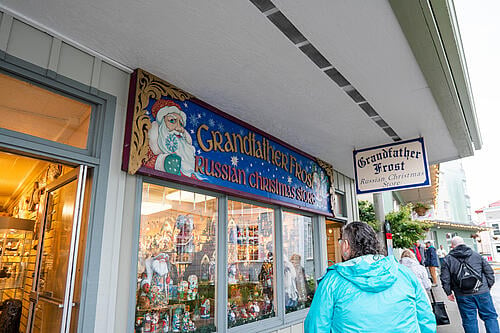 We continued to window shop and visit local businesses in Sitka. Although we didn't buy the $30,000 fur coat on display at a store, we warmed up with hot chocolate at the Old Harbor Books cafe-bookstore.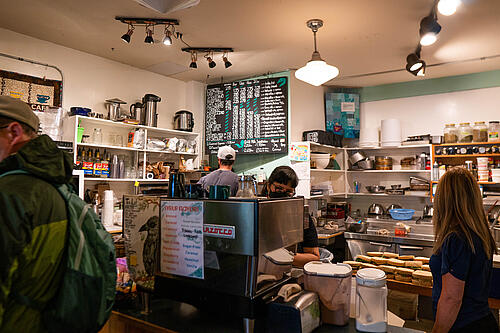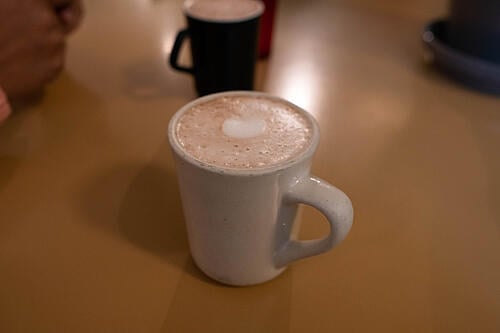 We also made a brief visit to St. Michael's Cathedral, a Russian Orthodox church located in downtown Sitka that was founded in 1848. While the original building was destroyed, the replica was built with the same architecture, transporting visitors back in time to the Sitka era. belonged to the Russians.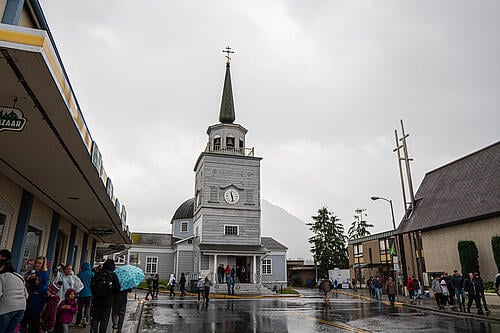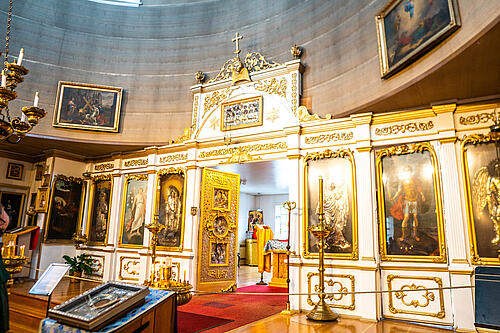 Our final stop downtown was at Ashmo's, a seafood food truck offering dishes such as salmon macaroni and cheese, teriyaki halibut, and redfish fish and chips. I ordered the fish n' chips and thought it was well worth the price of only $13 for freshly caught Alaskan seafood.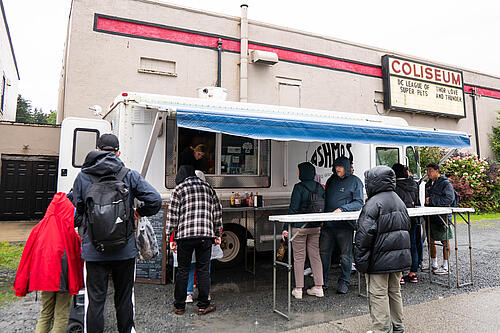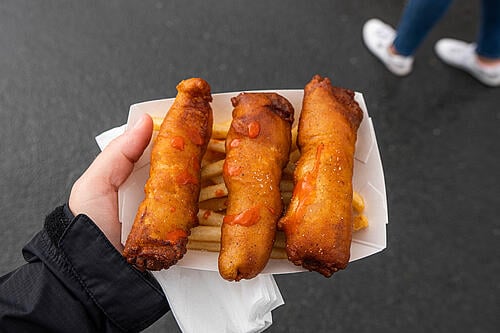 There was also a small food stand selling reindeer hot dogs, and while I wasn't adventurous enough to order one, I'm sure they are delicious.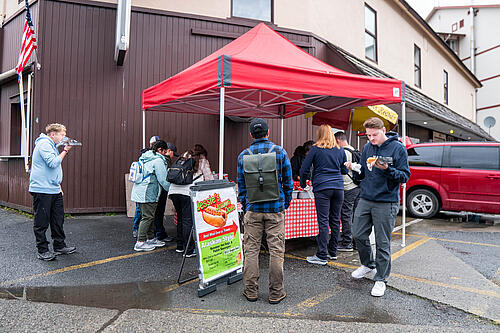 After lunch, we left Lincoln Street and walked along the Sitka Marina. At the end of the marina was a salmon hatchery. It's salmon spawning season and there must have been over a thousand salmon swimming!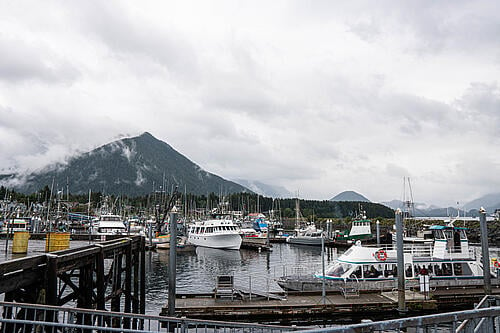 Then I continued walking along the waterfront path, which led to Sitka National Historical Park. The park had some nice trails, although the amount of bear warning signs made me quite cautious! There were also hundreds of salmon in the park river.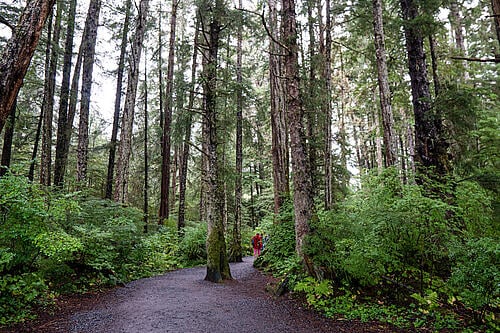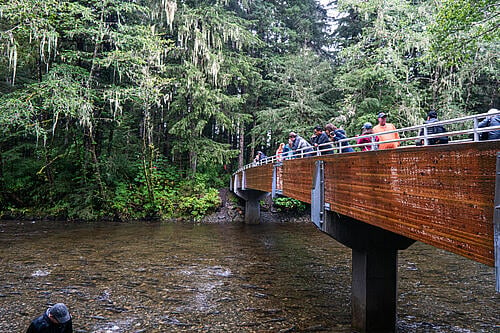 My final stop of the day was the Alaska Raptor Center, a rehabilitation center for eagles, owls, and other birds of prey. This non-profit organization rescues injured birds and helps birds reach a point where they can return to the wild.
Admission to the Alaska Raptor Center was $15 which I think was well worth the cost as it goes to a great cause.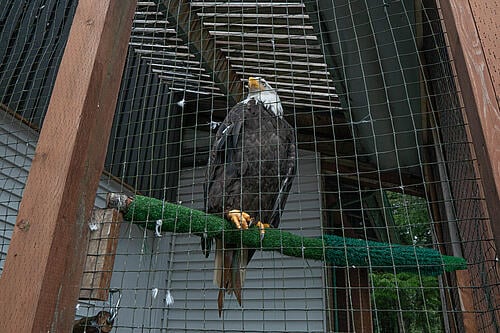 After a brief introduction, a member of staff introduced a rescued eagle and we were able to learn more about how they improve the health of these birds. We stopped at the Center's Flight Training Center, where eagles train to improve their flight skills after injury.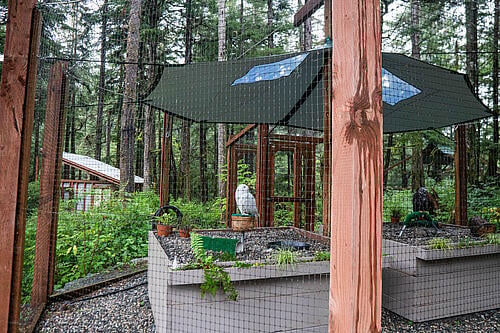 Outside the center are various habitats for rescued birds of prey. Here, visitors can get a closer view of the birds and read about each bird in the center. The outdoor area was definitely my favorite part of my visit.
I walked back to the downtown Sitka shuttle area from the Alaska Raptor Center, which probably took me about 25 minutes.
The queue for a shuttle to the port was quite long and I waited another 20 minutes or so in the rain before boarding a bus. Be sure to bring a rain jacket or an umbrella!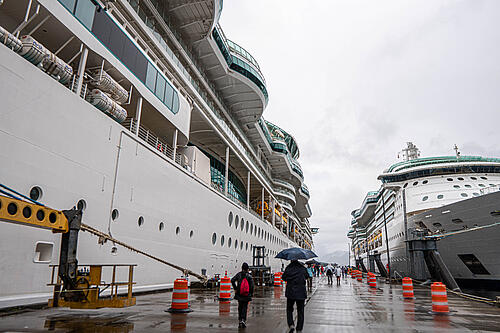 I was back on board around 3:30 p.m. and took a well deserved rest in my cabin before watching the departure from the Viking Crown Lounge at 5 a.m. I enjoyed a glass of wine to start and Reeham ordered an ice cold blueberry mojito.
Unfortunately I don't have sailaway pictures today due to problems with the internet on Radiance of the Seas… but rest assured, it was magnificent!
We hung out there for a while before going to dinner around 7pm. We were terrible at showing up to our main dining room reservations this week, and only showed up once at our 5:15pm reservation. Luckily we had no problem being assigned a table right away and enjoyed a lovely meal before heading back to our cabin for the night.
All in all, I loved my stay in Sitka today! Next time I'm here I'd like to take a trip to Bear Fortress to see rescued bears in their natural habitat and do more hiking around the area.
Tomorrow we are in our last port of call: Skagway, Alaska.
[ad_2]
Source link