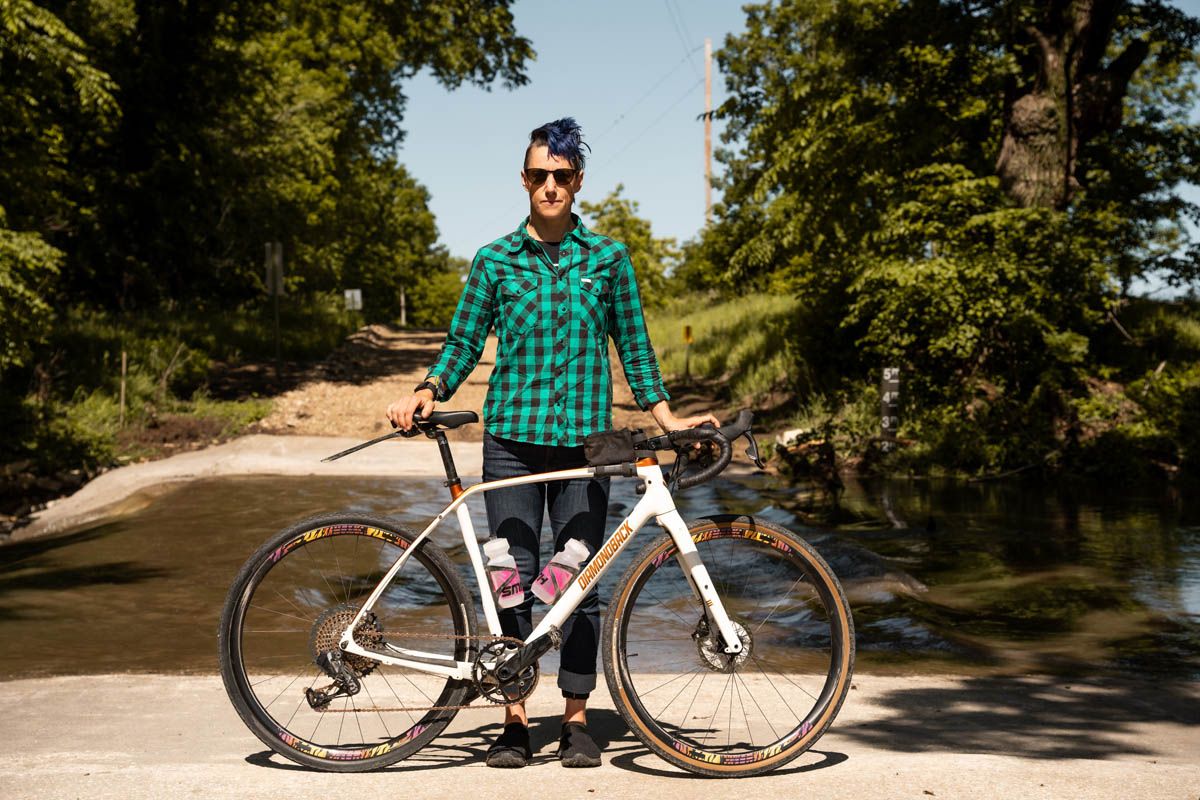 Rach McBride Blog: One of the Proudest Moments of My Life
[ad_1]
Landing on the top step of the first non-binary Unbound 200 podium will likely go down as one of the proudest moments of my life. Not because I was winning or bragging or looking for sponsors, but because I was up there with a podium full of athletes like me. Last year, in all Unbound running distances, there was only one non-binary athlete, Abi Robins. This year, we were 17! Coming back from this race weekend with what feels like a whole new family standing on this podium with me.
Now you might be wondering, "how on earth can you train for a 12+ hour dirt bike race?" This tiger does it by first hitting a solid 10-hour "practice day" at the IRONMAN World Championships in St George, Utah four weeks prior and spending a few days in Moab playing mountain bikes, before landing finally in Emporia, KS for a few weeks. to try to become a local.
In my new home in Kansas, I was able to do a good week of long hikes targeting the Unbound course, among a few short swims in the hot pool at the Emporia Rec Center hot tub, and short jogs to keep my legs beating the pavement. The reconnaissance of the course was invaluable: I got to know almost every mile, experienced great variations in wind speed and direction, rode all the important climbs for Kansas, and rode the the most technical places a few times. There is so much to go through mentally and physically in such a long race. Having the upper hand on the course and the conditions left my brain focused on eating, drinking and crashing on race day.
And then 2 weeks later I realized I had done something really stupid.
While in Moab, I had changed my shoe cleat position quite drastically to a placement more suited to mountain biking. Then I had kept it that way, doing a few days of 6-7 hour riding on the gravel platform, without thinking about it. Two hours into a workout, still 30 miles from town, I was hit with 9/10 knee pain and had to limp the rest of the way back. Yes, my IT group was very angry with me. *I was very angry with myself!
I know better than that. I could already see my medical and coaching staff facepalming. After an emergency call with my PT at MoveMed Physio (and replaced my cleats!), I spent the 2 weeks leading up to the race riding 60 mins a day and stocking up on anti-inflammatories for maximum calm the computer group. I was incredibly frustrated, losing confidence in my physical condition and embarrassed to show up to another very under-trained starting line. I was convinced I was going to cringe in pain for 10 of the 12 hours of racing, especially after just over an hour of spin on the bike the night before race day that led to a flair-up .
I have to thank my trainer Mateo Mercur for having the confidence to keep my training ridiculously easy knowing in the best of times that I might be able to make it to this race with the irritation gone but under trained compared to the training, showing up with a fraction more fitness, and then potentially having to deal with chronic ITB syndrome the rest of the season. Incredibly (and with the help of about 2400mg of ibuprofen LOL) it barely gave me any problems for the 200 miles. Hopefully we dodged a bullet with this one!
It's amazing how quickly 12 hours in the saddle go by. The first hour I spent trying to stay ahead of the race. I remember looking at my bike computer 27 minutes later, I noticed my heart rate was in the yellow zone, sometimes red, and I thought "you gotta chill it, Rachel!" From the winds coming from the south, I knew that being in a peloton was much better than crossing the headwind solo. However, the yo-yo at the back of the band was just too much above my comfort zone and after an hour of hammering I dropped down to let my heart rate come down, hoping I didn't wasn't fucked.
I spent most of the day bouncing from group to group. I was grateful to jump on solid trains of pain towards the two aid stations. The Flint Hills gave us all the time. The cool morning brought some expected thunderstorms. I remember going slowly through a slippery, muddy, wooded area with a few scattered runners. Like dominoes, 4 guys fell in front of me, but I threaded the needle swiftly through the multiple pile-ups. I was very proud to come out at the other end of the section without having to walk. This mountain bike pays off! I didn't keep the rubber side the whole race. As the sun rose and began to turn the mud into the sticky mess Kansas is known for, one section in particular was impassable. Thinking I was somehow better at it than the dozens of cyclists walking their bikes around, I plopped down in the muddy ruts, only to get knocked down a short time later. I still get that mud off my bike, shoes and cleats a few days later!
Not only had I never run more than 160 miles, but I had never needed to organize a support team. I was grateful that the amazing team at HED Cycling stepped in last minute for the job (high five to Maddy, Andy and Catherine!). I would enter each pit stop, toss my bike to Andy for an imperative cleaning of the chain, lube and tire pressure, change my hydration pack and put my goggles back on for cleaning. The moment I drank a delicious coke and threw a sandwich on my jersey, my team kicked me off. Magic.
At one point on a long straight, I remember thinking of 26-year-old Mo Wilson, the lifetime Grand Prix winning athlete. His senseless murder a few weeks earlier had sent shock waves through the community like I had never felt. I didn't know Mo very well, but she had been one of us. At sunrise the Friday before the race, Lifetime had graciously organized a memorial ride. Tears were streaming down my face as we stopped and said a few words. Again, this moment on the course, I caught my breath, stifling my emotions. Many of us that day were riding for Mo. We were pushing for that finish line because we could, and she couldn't.
Around the last quarter of the race, my body finally started to complain. With over 2 hours left in the saddle, my lower back started to feel very tight and sore. I started to curse the fact that this race didn't involve a change of sport like triathlon. I was ready to get off that bike! Where was my marathon to move my body in a different way?!
The pain in my back became all I could think of. I knew I just had to keep the pressure on; it does the same thing regardless of the effort. I didn't know who was in front or behind me. I could catch or be caught by a competitor at any time. I was flying alongside 100 and XL runners, shouting "good job!" and "keep it up!" as we all approached the finish line.
And what a finish line it was. I was laughing and crying at the same time, giving high fives to the kids, racing down the iconic downtown Emporia that I had known so well from the photos. I will treasure the finish line hugs from the amazing Kristi Mohn and my HED team, despite the head to toe mud.
I had crossed the line as the first non-binary runner to complete the 200 mile race. I had achieved my goal of finishing in less than 12 hours (11:56), a time that any other year would have been a winning time in the women's category, but I landed 23rd in the only results of the women's Lifetime Grand Prix race.
I was able to cheer on non-binary athlete Apollo in 2nd place at the finish before heading out to feed and clean up. Outside of the race, the whole weekend was an incredible experience of connecting with a whole team of non-binary runners for the first time in my life. The importance of this cannot be underestimated. I've spent my entire racing career feeling like a funny duck. Words don't do justice to the sense of pride and comfort, joining an entire podium of 5 non-binary people on stage the next day at the Granada Theater Awards ceremony. And we're just getting started!
My Unbound 200 setup and nutrition:
Bike: Diamondback Haanjo 8C
Rims: HED Emporia RC3
Tyres: Panaracer Gravel King SK (front), SK+ (rear), 38 mm with Cushcor inserts
Tire pressure: 35 front / 38 rear
Stem: Redshift Sports Shockstop
Drivetrain: SRAM 1x – 42 chainring, 10-47 cog
Saddle: ISM PS 1.0
Hydration Pack: Chase Camelback Vest
Nutrition statistics:
5 L Maurten 320 + additional sea salt
3.5 L of water with electrolytes
1L of coke
6 packets Gu Chews
6 Gu liquid gels
4 Maurten caffeinated gels
3 vegan ham and cheese sandwiches
Total fluid: 9.5 L
Total calories: approx. 5810
[ad_2]
Source link