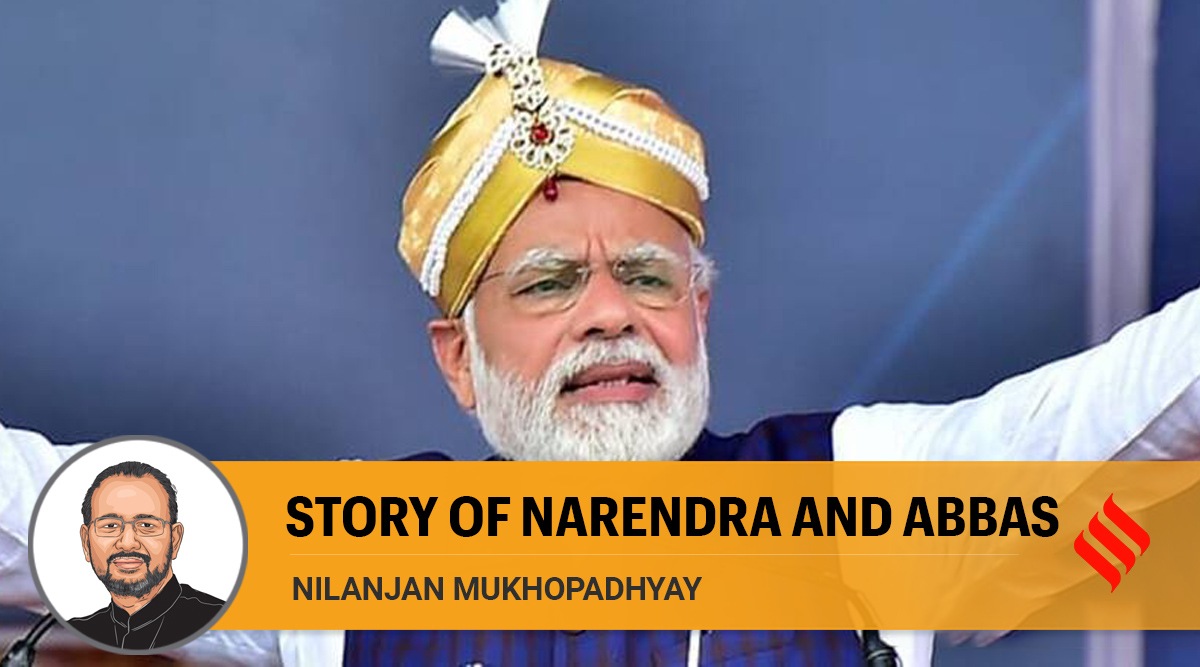 Nilanjan Mukhopadhyay writes: Why Prime Minister Modi mentioned Abbas Ramsada in his blog
[ad_1]
Why did Prime Minister Narendra Modi out of the blue mention Abbas Ramsada, who lived for a time in the Modi household as a child because his father, Miyanbhai, died prematurely and the family was struggling to ensure that Abbas could continue school education? The question is important because Modi does not usually refer to personal interactions with Muslims. His last public encounter with a Muslim that made headlines was in 2011 and does not bring up fond memories.
At the time, he refused a skullcap offered by a Muslim cleric. His action during the Sadbhavna campaign announcing his arrival as a candidate for prime minister was applauded by supporters and criticized by opponents. This cemented his position as a polarizing figure, which contributed immensely to his rise. After becoming prime minister, Modi held occasional private but publicized meetings with Muslim officials and sent chadars during the festivities to a dargah or two. In September 2017, he accompanied then Japanese Prime Minister Shinzo Abe to the 16th-century Sidi Saiyyed Mosque in Ahmedabad. It was Modi's first-ever public visit to the architectural marvel, proof of the historical realization of Gujarat's multiculturalism, and marked a significant turning point in his political career.
Is it pure coincidence that the timing of Abe's visit to the mosque – a few months before the Gujarat assembly election – is somewhat similar to his revelation about Abbas, also before the polls were held in the State ?
Since serving as chief minister of Gujarat, Modi has positioned himself as a strong proponent of the 'sabka doctrine', the principle formulated by Lal Krishna Advani – 'development of all, appeasement of none'. The prime minister's reference to Abbas was made on his blog, a platform that has played a crucial role in creating the Modi cult. Because other digital and social media platforms are at his disposal, Modi rarely blogs now – the last time was in October 2021, to mark India's Covid-19 vaccinations hitting the 100 crore mark. This latest blog, titled 'Mother' (Mom and mata in Hindi and Gujarati, respectively) marked a personal turning point in the lives of Modi and his mother – she entering the 100th year of her life. The 4,000+ word blog was mostly about sketching her life, mentioning hardships, her determination in the face of adversity and her fighting spirit to provide for her children. His mother is presented as providing total support for his life choices and his image as a selfless leader is reinforced.
No Modi action is without purpose. A direct reference to Abbas, as evidence of his family's affability towards a young Muslim boy going through a difficult phase of life, would have seemed incongruous. The character was thus introduced in the blog to support the depiction of Hiraben as someone who "would find happiness in the joys of others". No direct suggestions required – the blog mentions several of his mother's attributes that Modi has picked up, for readers to infer that he also derives pleasure and a sense of accomplishment from people's happiness and well-being . Modi's father is also described as a caring elder who brought his friend's son home and provided warmth and support when the latter was vulnerable. Hiraben is also said to have prepared the boy's favorite dishes during Eid, underscoring his (and the family's) respect for the faith of others.
Each of these details seeks to establish that Modi's upbringing was not in an Islamophobic family. On the contrary, taking care of a Muslim in distress was part of his family values. It is another matter that the episode with Abbas took place in 1973, by which time Modi had left home and joined the Rashtriya Swayamsevak Sangh. Modi would probably have had little or no interaction with Abbas as he was a classmate of his younger brother, Pankaj. This is not mentioned and it is suggested that Hiraben shower love and care "as she did for all of us brothers and sisters", Modi endorsed.
The existence of Abbas and his association with the Modi family has been in the public domain since early 2014 when Sudesh Verma, a journalist turned BJP leader, wrote a biography praising Modi and mentioned this episode. Yet for the past eight years, Modi has neither spoken nor written about it. Few would note that this mention was made in the context of the controversy sparked by suspended BJP spokesperson Nupur Sharma's comment on the Prophet.
It is natural to wonder whether Abbas was introduced into public discourse to project Modi as having grown up with inclusive values. If so, who is the effort for? Enraged Islamic nations and their regimes, or motor thugs within the BJP?
But will this exercise help the BJP or Modi achieve either goal?
No world leader, certainly not the nations that hauled New Delhi over for comments by Sharma and his colleagues, will alter or make up their minds about Modi based on well-choreographed retellings of a tale from the past. Likewise, it is hard to imagine the base of the BJP overnight abandoning the vocabulary of hate and prejudice that they have been trained to use over the past eight years.
Examples of senior BJP leaders using objectionable language are well known and abundantly available in the public domain. Abbas' story may have 'trendy' and created a splash for the man, now in Australia, and also added to the ongoing project to publicize Modi's 'softer side'. But beyond that, it won't do much for Modi and his government.
The writer is an NCR-based author and journalist. His latest book is Demolition and Verdict: Ayodhya and India's Reconfiguration Project.
[ad_2]
Source link