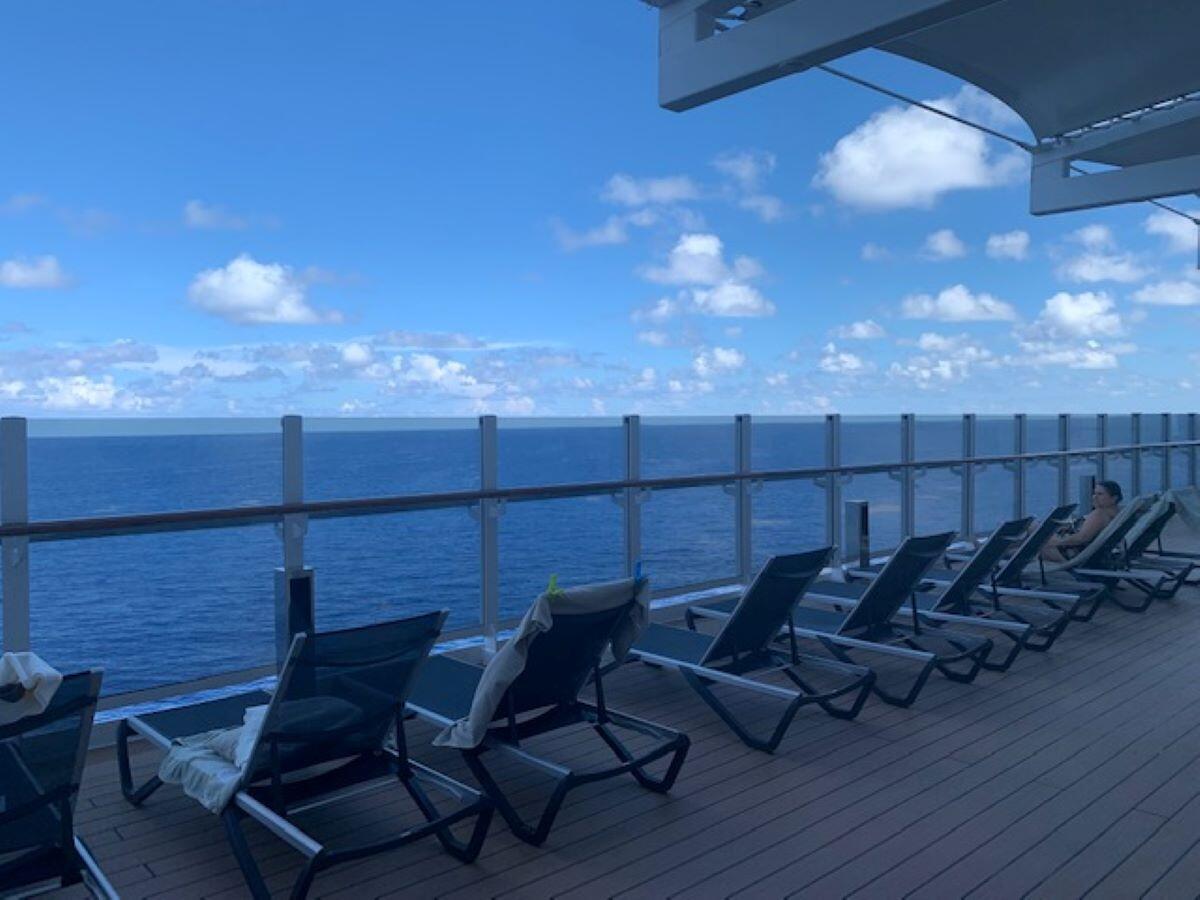 MSC Seashore Live Blog – Day 7 – Day at sea
[ad_1]
Today is a day at sea and unfortunately the last day of my cruise. It's amazing how quickly a week goes by, especially with four port calls to fill the days.
I'm jealous of those people who cruise back to back; I can definitely see the appeal of another week on board.
I thoroughly enjoyed my first MSC cruise and the ship has a lot to offer. Again today, I found new places that I hadn't visited before, proving that I need to spend more time on this ship.
Here's what I did to enjoy the last leg of my fantastic MSC Seashore cruise.
Morning activities
For breakfast today, I wanted to try something different, so I headed to the main dining room at Central Park Restaurant. Not many people had arrived for breakfast yet and I was seated with a great view of the ocean. Unlike dinner the other night, there were plenty of waiters with few people to serve early in the morning.
I chose the Eggs Benedict as it has not been an available option at the buffet this week. The server quickly brought hot coffee and juice along with an assortment of pastries. One thing I love about MSC is that they always serve coffee with steamed milk, a nice European practice that makes all the difference! My eggs were tasty and the servers were attentive. A nice quiet start to my day.
Following this, I went for a walk around the ship to enjoy the morning sun. For a change, it was a bit windy outside, which I loved. I went up to upper deck 19, which has the best view. Although access is limited, part of the space is dedicated to the MSC Yacht Club, the cruise line's suite class.
Among the benefits, passengers in MSC Yacht Club cabins have their own restaurant, lounge, solarium and priority embarkation/disembarkation. I also noticed that there were covered seats for Yacht Club guests on the quays of all ports, providing shade while waiting for transport. I was also told there was a private retreat area at Ocean Cay, although I couldn't see it. It definitely sounds like a great way to cruise.
From there I went down to the Hall of Games to see all the fun stuff available. There are plenty of things to do, such as 4D cinema, an arcade and VR games, available at an additional cost. I really wanted to try virtual rafting, but it's a two-person boat, so I missed that one.
Lunch / afternoon
I relaxed for a while on deck, enjoying the sun. As with other cruise lines, the chair hogs were out early for the best spots, but I was able to find a nice quiet spot. I noticed that there are not many umbrellas or cabins for rent like some other ships.
Being my last day, I decided not to pack my bags, so I could get the unpleasant task over with and enjoy the rest of my day at sea. lunch options and saw that one of the specialty restaurants – Butcher's Cut, was having a brunch special. Based on my excellent meal the other night, I thought I'd give it a try for the good price of $12.
I really didn't need it, but I had chicken, cookies and gravy. A large plate of food, the cookies were perfectly flaky and the chicken was crispy and light; I could have had a bucket of sweet maple sauce, but thought that would have been an odd request.
After a brief rest, I spent some time browsing a few of the many stores and stopped at the MSC Foundation area to learn a bit more about what MSC is doing to help the environment. They sell goods on board with profits going towards the effort.
I also walked through the casino, which is very colorful and has a lot of activity. It's open to other areas of the ship, and I didn't notice anyone smoking or smelling smoke, a question cruisers frequently ask. Didn't gamble as I have no luck on the slots, but it's a fun environment to hang out.
It's Love!
Tonight I decided to return to the main dining room for my last meal on board MSC Seashore. I didn't know it was Italian night, but I quickly snapped the picture with the streamers, napkins, and waiters in bow ties in the colors of the Italian flag.
My first problem was what to choose. Lots of amazing choices, but I narrowed it down. My first course was the Caprese salad, one of my favorites, and it did not disappoint. Second came Penne all 'Amatriciana – a savory sauce with freshly made pasta topped with a little chili and pecorino cheese – and wow! To top it off, I went with a classic Italian flavor, choosing a Limoncello cake which was perfectly tangy.
The general mood in the dining room tonight was a bit more relaxed. I heard lots of laughter from the other guests and everyone seemed to be enjoying the last evening on board.
Final Thoughts
I was so lucky to travel on this beautiful cruise ship this week, and we were really lucky with the weather every day.
All in all, as I return to Miami tomorrow morning, I'm sure I'll be taking another MSC cruise. I had a great time, the ship is fantastic and the crew were very friendly and helpful. Part of MSC's appeal is its large fleet and wide range of routes. I would definitely like to travel on some of their new ships due to launch this year.
Also, a note on solo browsing. It's easy. There is a lot of information about meetings and activities in the daily program. Most people are happy and chatty so you never feel lonely, and I feel like the staff go the extra mile for solo travellers. I like talking with other passengers and the staff tend to know where they are from and what they are doing.
Thanks for following my travels this week.
[ad_2]
Source link