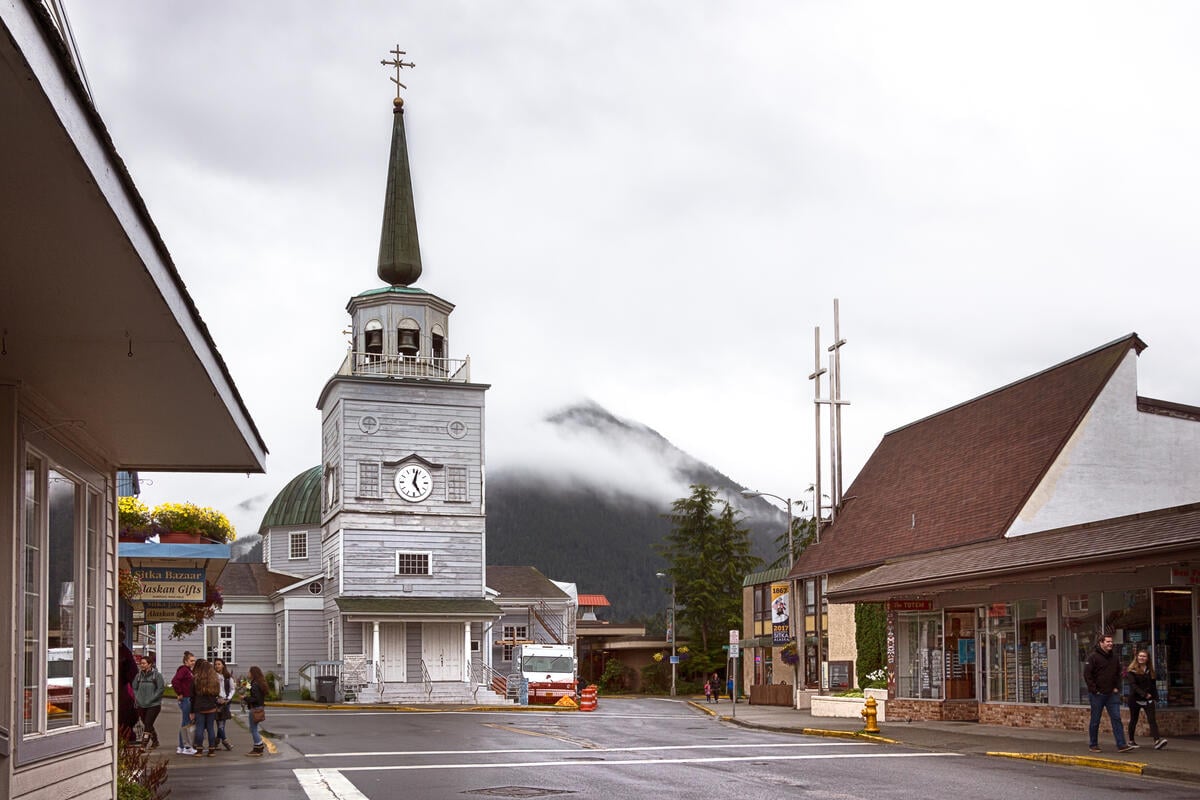 Local guide to what to do in Sitka, Alaska
[ad_1]
Sitka, Alaska, located on the west side of beautiful Baranof Island, captures the epitome of Alaskan wilderness. It is a city steeped in history. Originally settled by the Tinglit people over 10,000 years ago, Sitka became Alaska's first capital after the signing of the Alaska Purchase in 1867.
While downtown Sitka is a small cluster of quaint buildings against a backdrop of towering mountains, the town of Sitka spans over 4,800 square miles. This makes it the largest incorporated city in America.
Although the city limits are vast, less than 10,000 residents reside in the city year-round. Tourists flock to the historic enigma, swelling the population by the thousands throughout the summer. This town is only accessible by air or boat and is an ideal stopover on a trip to Southeast Alaska. Here, visitors can enjoy all of the amazing sights of an Alaskan trip in one stop – bears, mountains, glaciers, whales, and endless Alaskan beauty.
While there are plenty of things to do to fill your hours in port, this guide will give you some of our top local favourites. So be prepared to take back roads and forgotten trails on your Alaskan cruise.
Enjoy a leisurely walk through an old Russian cemetery
Before the purchase of Alaska Territory by the United States, Russian fur traders and fishermen were the main foreign inhabitants of the Alaskan Coast (then called Russian America). Reminders of these ancient adventurers live on in Alaskan communities, and if you speak to a local, chances are they have a Russian relative in their line.
As the former capital of Russian America, Sitka has strong ties and cultural nuances to this period of Russian heritage. Visitors can see this history firsthand at the Old Russian Orthodox Cemetery located in the heart of downtown Sitka. This 200-year-old cemetery contains beautiful headstones marking the graves of Russian Orthodox parishioners. Each headstone is remarkably unique, with some falling through the test of time and almost completely covered in moss. Located in the moss-covered forest, a stroll through this cemetery will make you feel miles away from the city.
Although walking through a cemetery may not seem like an exciting affair, this walk allows visitors to see a lasting mark of history today. When visiting, remember to be respectful, as this cemetery is still used today by local families.
You can access the cemetery from Seward Street near the Sitka Lutheran Cemetery. The cemetery was vandalized in January 2022, but local organizations continue to restore the area and restore it to its former beauty.
Hike along the Beaver Lake Trail and look for wildlife
If you're up for a little more adventure, head to Beaver Lake Trail to enjoy a 3-mile hike through ancient forests and along a pristine mountain lake. You will need to rent a car or pay for a taxi to access this route. The trailhead is outside of town at Blue Lake Campground. However, there are plenty of sites to visit in the area, which is well worth the effort. If you have a longer stay in the area, you can walk to the trailhead from downtown Sitka via the Herring Cove trail. This trail starts off the Sitka Road and takes about an hour.
Beaver Lake Trail is a 3 mile trail with steep elevation gain in the first quarter mile. The trail climbs sharply up to 200 feet with a series of switchbacks before leveling off until its ascent to Beaver Lake. It's worth the breath and breath once hikers reach the lake and take in the spectacular views of the surrounding mountains. This trail is short enough to combine with other sightseeing stops throughout the day. Wildlife is common along this path, so keep an eye out for bears, eagles, deer and stoats.
local council: Pack rain gear, bear spray and insect repellent for this outing. While the Alaskan wilderness is beautiful, it's also incredibly buggy during the summer months. Bears can be frequent visitors along this route, so take extra precaution and always be bear-aware.
Have lunch at Fresh Fish
While you should visit Sitka for the scenery, you'll want to stay for the food. Sitka has no shortage of delicious restaurants and cafes, and you could spend weeks discovering all the wonderful flavors of this town. However, if you're only in town for a short time, stop by the Fresh Fish food truck for one of the best meals in town. After all, you can't visit Alaska without trying the local seafood!
Fresh Fish offers a simple menu of locally caught poke, chowder and ceviche. The menu changes often, so it's always fun to drop by and see what they offer. Meals are prepared quickly, so you can grab a delicious treat quickly before heading out on your next adventure.
local council: Fresh Fish is generally open Friday through Wednesday from 11:30 a.m. to 3:00 p.m. Depending on the day, the cart moves around town. Check their Facebook or Instagram page @thefreshfish.ak for the latest updates.
Take a boat ride to Goddard Hot Springs
Even in the summer, Sitka can experience cool temperatures and gloomy days. One of the best ways to enjoy the outdoors, even on cloudy days, is to take a boat to Goddard Hot Springs. The boat trip from Sitka takes about an hour and offers splendid views of Baranof Island from the water.
Keep your eyes peeled for whales and other marine mammals as you travel. Located south of Sitka, visitors can plan to spend at least half a day exploring these natural wonders and bathing in the warm waters.
The town of Sitka has Goddard Hot Springs, and the springs are free to the public. Each spring is protected in log cabins, protecting against Alaska's worst weather conditions. Pack plenty of layers for the return trip, as temperatures can vary greatly on the water.
Look for puffins on Île Saint-Lazare
Sitka sits outside the Inside Passage, making it a great birding destination during the short summer months. Thousands of seabirds flock to the Sitka area between May and September to breed and nest along the cliffs and islands. Île Saint-Lazare is one of the best places to observe this natural phenomenon.
Saint-Lazare is the summer residence of dozens of bird species, including puffins, petrels, auklets and oystercatchers. These birds nest along the volcanic cliffs and feed on the abundant fish and marine life that congregate in the waters around the island. St. Lazarus is one of Alaska's 2,500 islands that make up the Alaska Maritime National Wildlife Refuge. It is estimated that over half a million birds return to this location each year to raise their young.
Saint-Lazare Island is located north of Sitka and is only accessible by boat. Numerous charters and water taxis depart from Sitka daily to take avid bird watchers, photographers and wildlife enthusiasts on a cruise along the edges of this protected island. Otters, seals and humpback whales are also common sights on this trip.
local council: This may not be the best choice for visitors prone to seasickness. Pack a pair of binoculars on this trip, as there will be plenty to see! While much of the water around Sitka is protected from the weather, the drive to St. Lazare can be difficult if the weather turns.
However you choose to spend your day in Sitka, Alaska, you are sure to enjoy it. This makes it one of the best stops to enjoy your big trip to Alaska! Fair winds and happy sailing!
[ad_2]
Source link