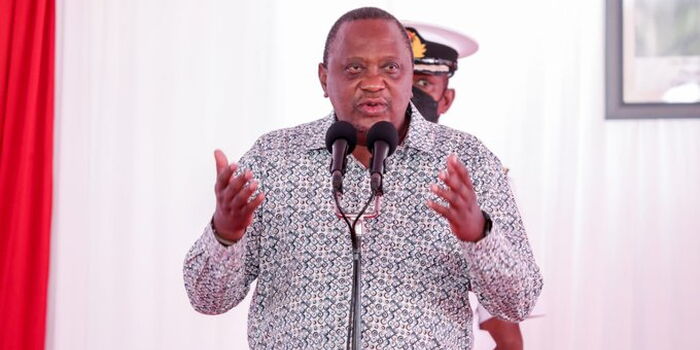 LIVE BLOG: Uhuru addresses Mount Kenya at Sagana Three
[ad_1]
President Uhuru Kenyatta will address opinion leaders from the Mount Kenya region on Wednesday, February 23 at Sagana State Lodge.
The president is expected to give guidance to the vote-rich region on the direction he will take in his succession – ahead of the August 9 ballot.
Kenyans.co.ke will keep you updated minute by minute. Keep refreshing this page for updates.
14:40: Uhuru concludes the open session of the Sagana meeting. Retreat for a private session with Mount Kenya leaders.
2:16 p.m.: President Uhuru endorses Raila but at the same time states that if DP Ruto toes the line in the future he would be ready to support him.
2:14 p.m.: President Uhuru Kenyatta endorses Raila Odinga saying, "What an old man can see sitting down, a little boy will not see standing on top of a tree. Let's hold the old man's hand and if the other young man stands reform also at some point in the future, I did not prevent anyone from supporting it".
2:09 p.m.: Uhuru declares his support for the small political parties that have been formed in the Mount Kenya region. He acknowledged that leaders are afraid to join big parties because of what happened to small parties in 2017. He urges small parties to join the coalition that supports Raila Odinga.
2:02 p.m.: President Uhuru says he will leave the government in the hands of Raila Odinga. The crowd goes into a frenzy as the president adds that he will give him a saving of 13 trillion Ksh.
13:59: Uhuru Kenyatta says the Arror and Kimwarer Dam billions were used to fund political careers and distributed to churches as fundraisers. He adds that church leaders took the proceeds of crime to defend said thieves.
"You cannot receive money which is the proceeds of crime from funds supposed to build dams…you carry bibles here and lie to the congregation because of Ksh 2 million. You will go to hell," says Uhuru.
13:53: The President addresses the BBI and claims that he was seeking to return to government with the BBI. He thanks the Mount Kenya region for voting for him and says he is ready to return home after his term ends.
1:49 p.m.: Uhuru states that DP Ruto lied saying he didn't know about the handshake. The President tells Sagana III that the DP was very aware of the meeting and was the last person he spoke to before meeting ODM leader Raila Odinga.
1:47 p.m.: President Uhuru says he used his own money to settle affected families after the disputed elections.
"Where were these people when our people were displaced. Where was I when I begged my people not to take revenge? I even had to use my money and my friends' funds to resettle our people so they wouldn't take revenge," he said.
1:45 p.m.: President Uhuru Kenyatta lashed out at his opponents claiming it was the same people who destroyed the tea and coffee industries. "Those who destroyed your livelihood in tea and coffee are the ones who tell you you are scammers."
1:40 p.m.: President Uhuru clarifies that he did not call the meeting to insult his opponents and detractors because it was highly publicized.
1:36 p.m.: PDU leader Andrew Wakahiu asks President Uhuru Kenyatta to allow state officials to deal with Vice President William Ruto. "For us, we are not politicians but we ask you, as our boss, to grant us permission to deal with those who attacked from the roofs of cars."
"Don't answer them, they're not on your level. Allow us to give them uppercuts," he said.
1:03 p.m.: Wakahiu introduces Anthony Muthungu, founder of Kenya's first USB cable manufacturing company, to President Kenyatta. Wakahiu also tells Uhuru about the role he played in enabling Muthungu to start his business.
12:49: Presidential Delivery Unit Leader Andrew Wakahiu takes aides through various Jubilee projects.
12:48: President Uhuru Kenyatta kicked off his Sagana III meeting saying it is his day and he will present to Mount Kenya what he has achieved.
12:47: The president says he initially invited a few people to the meeting, but when he was informed that a huge crowd had turned up, he ordered his team to open the doors to everyone.
12:45 p.m.: President Uhuru Kenyatta has chastised those who claim the Jubilee Party is over. He challenged them to look at the size of the crowd that showed up for his meeting in Sagana.
12:40 p.m.: President Kenyatta asked those attending the Sagana III meeting to allow him to address the congregation in Kikuyu.
12:24: Meru Governor Kiraitu Murungi arrives for the high profile Sagana III meeting called by President Kenyatta.
12:14: President Uhuru Kenyatta arrives at Sagana State Lodge for Sagana III.
11:20 a.m.: President Uhuru Kenyatta's security team made last minute changes during the Sagana 3 meeting at the Sagana State Lounge.
On Wednesday, February 23, the security team was ordered to allow members of the public who flocked to the heavily guarded facility without invitation cards.
Thousands of people began arriving at the event as early as 4 a.m., causing major traffic congestion as those without invitation cards were locked out.
By 11 a.m., those locked outside the gate were estimated to number around 5,000, encouraging organizers to allow them in, a development that also caused schedule delays.
The president was scheduled to start his speech at 11 a.m., but organizers delayed the speech to allow more time to accommodate the intruders.
11:00 : Delegates arrive at Sagana State Lodge ahead of the Sagana III meeting. Breakfast was served to participants before heading to the lounge area.
crash thieves
[ad_2]
Source link