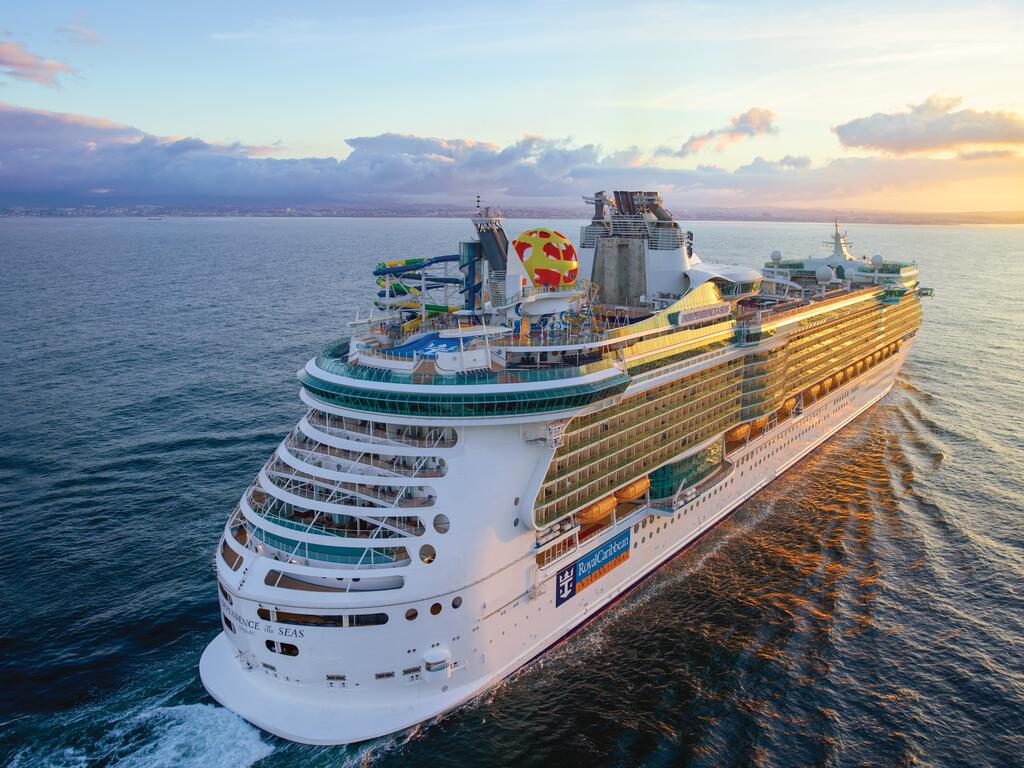 Independence of the Seas Live Blog – Day 1 – Embarkation
[ad_1]
Today is my first day aboard the Independence of the Seas for a 4 night cruise to the Bahamas and Perfect Day. This is also my first time on a Freedom class ship, so I woke up this morning especially eager to get on board!
I was able to get an early check-in time by watching my navigation open for check-in on the Royal Caribbean app. I board quickly at 11:30 am and head for the Windjammer.
After a delicious Indian curry lunch, I set off to explore Independence of the Seas.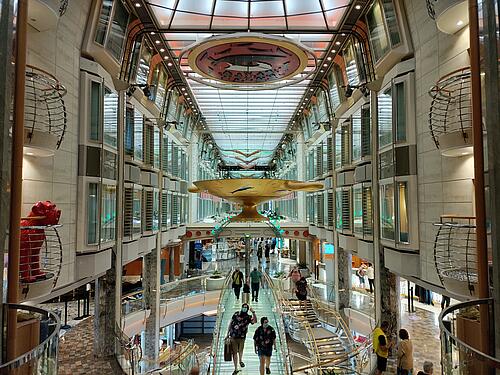 Independence was recently amplified in 2018 and accommodates many of Royal Caribbean's newer sites and activities. Recent additions to the ship include water slides, Sky Pad, Escape Room, Large Splashaway Bay, Playmakers, Izumi hibachi, and Sugar Beach.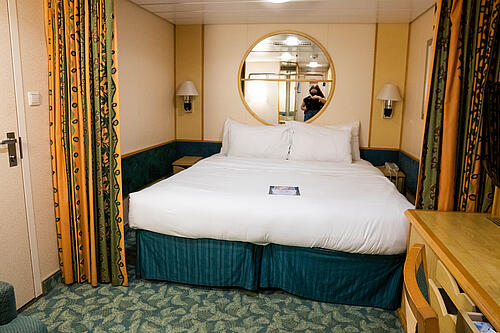 The cabins were ready by 2 p.m. I am staying in an inside cabin on this cruise. I did not choose my own cabin when booking and was assigned to a studio cabin. Studio cabins are slightly smaller than a regular interior room, but offer enough space for a solo traveler.
I caught up with my work at the Café Promenade before heading to the pool deck to navigate. The weather was intermittent throughout the afternoon, and around Sailaway the wind was quite intense. However, I still managed to get some great views of Independence of the Seas from Port Canaveral.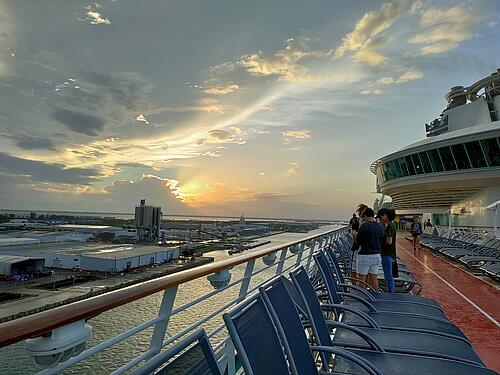 This is my fifth cruise, and my goal for this cruise is to try out activities that I haven't yet done on a cruise ship. Today's favorite activity was ice skating at Studio B.
Registrations for ice skating begin 30 minutes before the start of the activity. I went to Studio B as soon as registration started and there was no queue so I signed up for the first available spot.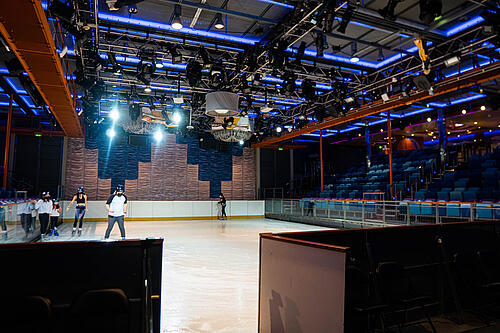 The ice skating time slots were in twenty minute increments. They didn't seem to allow a lot of people to register for each slot due to limited capacity so the rink was almost empty for my turn.
It was really nice and, despite a few tight calls, I didn't wipe myself off on the ice! I think I have a new appreciation for the talented figure skaters who perform on board. I can't even imagine doing a triple axel or a backflip on the ice!
Dinner tonight was at the Playmakers. The Playmakers on Independence of the Seas is huge! It must be almost double the size of the Playmakers on the other ships I've been on. There's plenty of seating, a ton of TVs, and arcade games.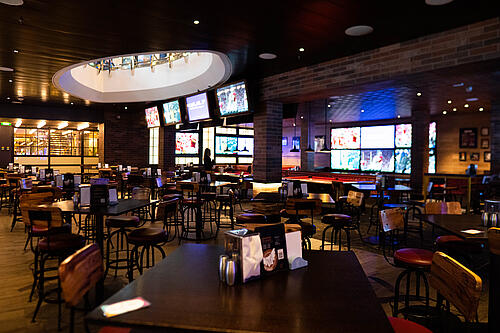 Because it's so big, the place is more like its own restaurant and bar on land than a small place like on Mariner of the Seas. And although Playmakers is a specialty restaurant, I think the prices are more than reasonable.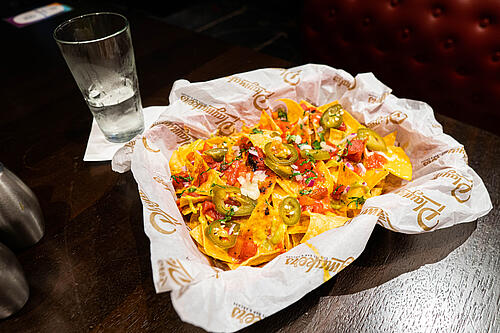 I ordered the Pile on Nachos, which is one of my favorite appetizers from Playmakers. Loaded with guacamole, tomatoes, jalapeños and cheese, it was delicious! I will definitely be back at Playmakers this week for one of the best desserts on any Royal Caribbean cruise, the Campfire Cookie.
After dinner I took a walk on the Royal Promenade. As a Freedom Class ship, the Independence of the Seas is similar to a Voyager Class ship, but is longer, allowing for more space and location options. I don't know if it's because the ship has limited capacity or because it was still dinner time, but the Promenade was pretty empty tonight.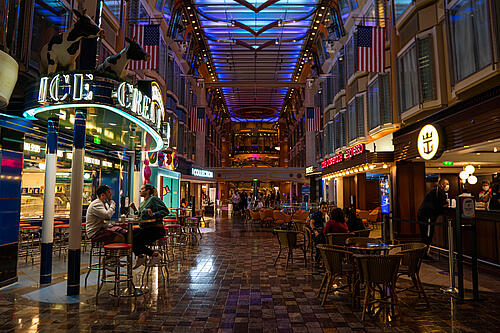 I think even though the Promenade on Independence of the Seas is longer than on a ship like Navigator of the Seas, it has a more relaxed feel. I think that's because, unlike Navigator, the Promenade on Independence sites are quieter. Considering that Playmakers is not located on the Promenade and Vintages is instead of The Bamboo Room on Navigator, it definitely feels quieter.
After walking around and filming for the Royal Caribbean Blog YouTube Channel, I decided to call it a night in order to rest for another fun day on board tomorrow.
Perfect day at CocoCay and our day at sea changed due to the weather, so tomorrow will be a day at sea.
Stray observations:
Independence of the Seas sails with a capacity of around 1700. It doesn't seem crowded and everyone seems to be following protocols well. I avoid high traffic areas as a precaution.
There does not appear to be any cancellation of any inflight entertainment offerings. Grease and the ice skating show are going on this week, and I'm excited to see both shows.
I really crave my favorite drink on board, the Banana Colada, but there is no Bamboo Room on this ship! However, there is a Vintages wine bar, so that will suffice!
A Freedom class ship looks almost identical to a Voyager class ship. In fact, I might not even have noticed that something was different if I hadn't known beforehand!
As someone who enjoys learning languages, I love the overall environment that the crew and passengers create on a cruise. Getting the chance to practice my Portuguese skills with a Brazilian crew member is always fun!
Outlets can be difficult to find in public areas on board. There is a set of outlets around the corner of Café Promenade if you need to charge a device or get to work.
[ad_2]
Source link