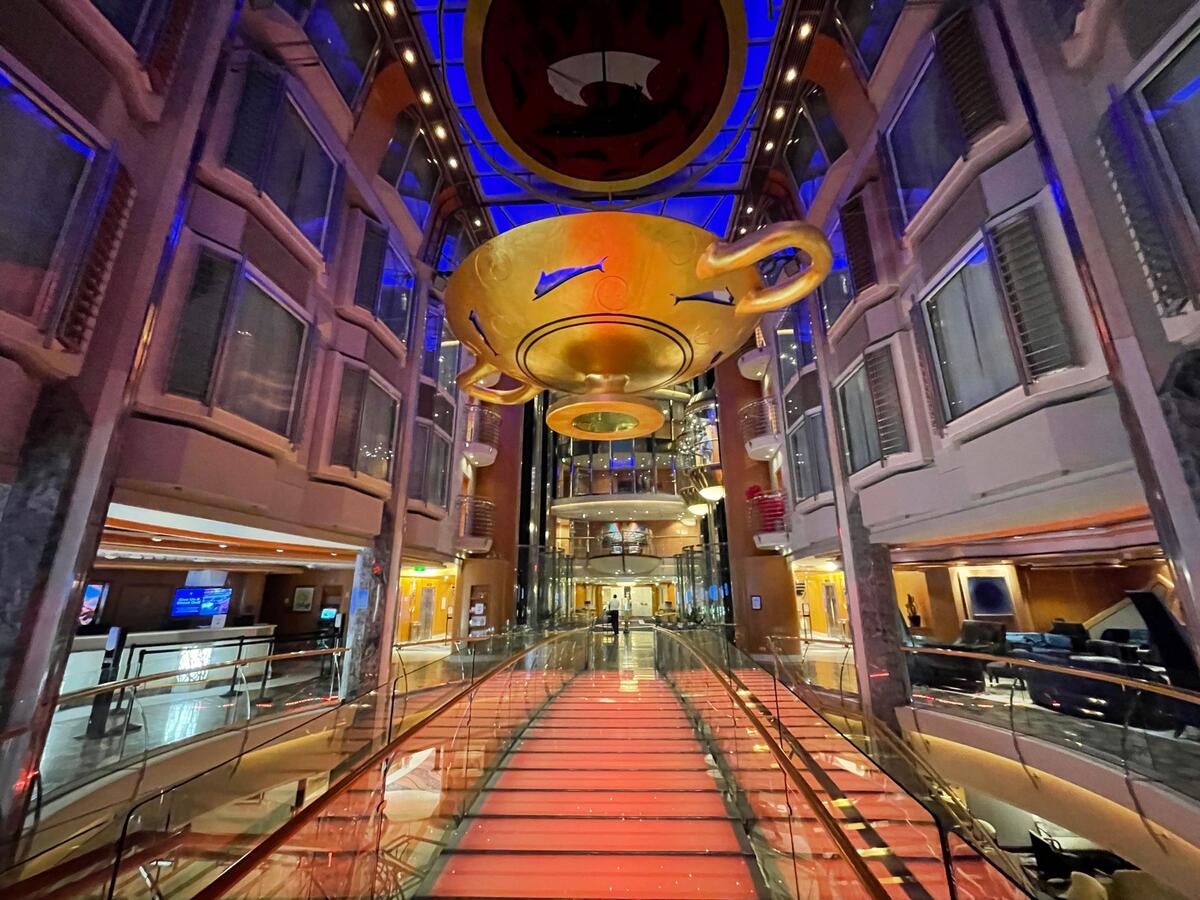 Independence of the Seas Live Blog – Day 1 – Embarkation Day
[ad_1]
A three-day weekend on my children's school calendar is the perfect opportunity to escape for a weekend in the Bahamas on Independence of the Seas!
As we live in the Orlando area, weekend cruises are easy sailing, especially when there is an extra day off school.
We are sailing Independence of the Seas for a 3 night cruise visiting Perfect Day in CocoCay and Nassau, Bahamas.
We left our house at 10:30 am and drove to Port Canaveral. No traffic and an easy hour drive to the coast.
Check-in was perhaps the easiest and quickest check-in and boarding I've had since cruises restarted last year. We rarely stopped walking, and when we did, it was just to check everything. The ship was already open and picking up guests when we arrived at the terminal.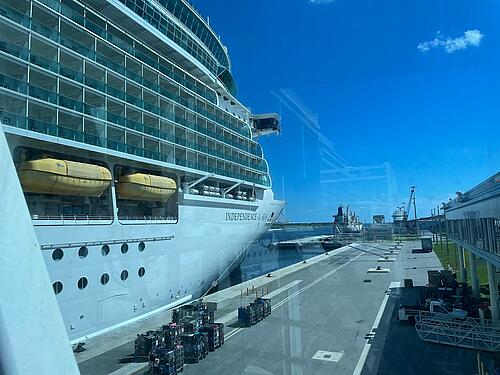 After getting on the boat, we headed to Playmakers for lunch.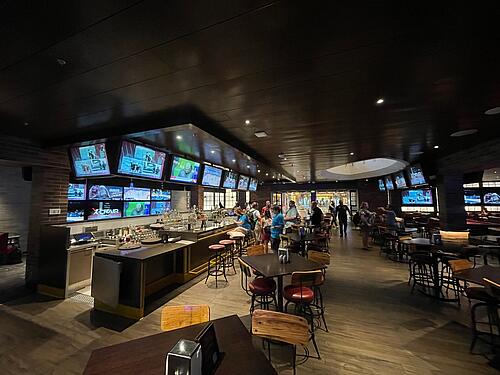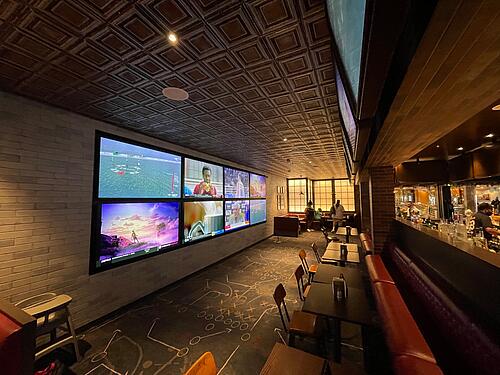 We booked the Unlimited Dining Package for this cruise, so an easy way to maximize the value of the package is to start the cruise with a specialty restaurant lunch.
I was worried it would be too crowded, but we had no problem finding a table and the food came out good and quick.
Our server was very nice, but he mistakenly told us that we could each eat at Playmakers only once a day. Unfortunately, I've heard servers say that sometimes, but that's just not the policy. In short, the unlimited dining plan is unlimited, with no quotas or limitations on the number of restaurants or the times you can dine at a restaurant each day. I didn't tell him, thinking I can cross that bridge if we need to later.
While we were waiting for the food, I went to Izumi to book our dinners. If you have a specialty restaurant package, it's a good idea to go ahead and book once on board. We had no problem finding the restaurants and times we wanted.
Lunch was served quickly and it was very hot. Wings, burgers and fries…oh my!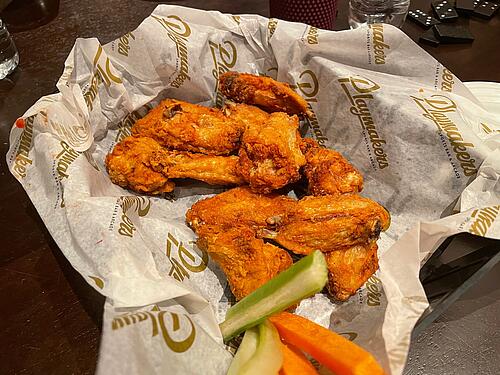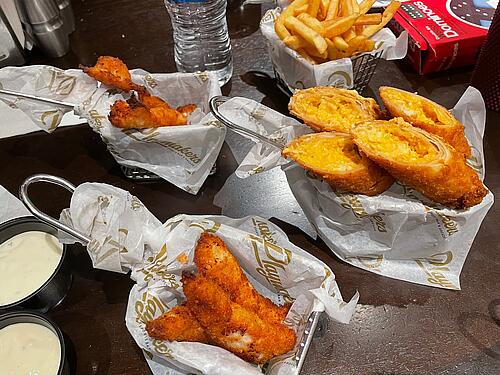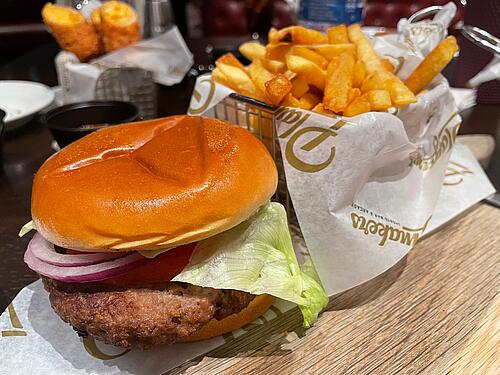 The next step was a visit to our muster station to complete the muster drill process. It couldn't have been easier and still so happy not to have to do the old muster exercise process!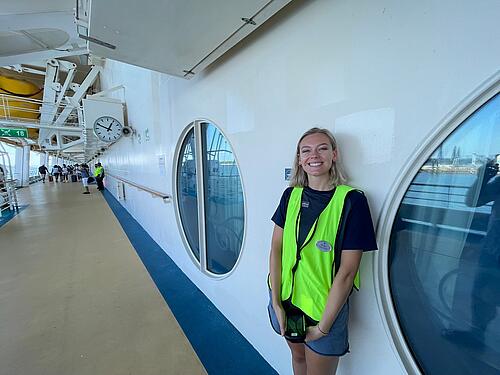 The cabins weren't ready until 1:30pm so my wife and I took some time to hang out in the sun deck and enjoy the nice weather.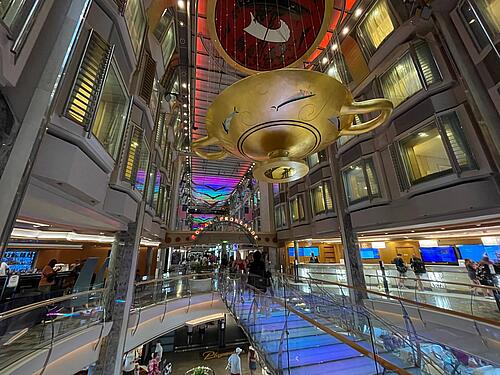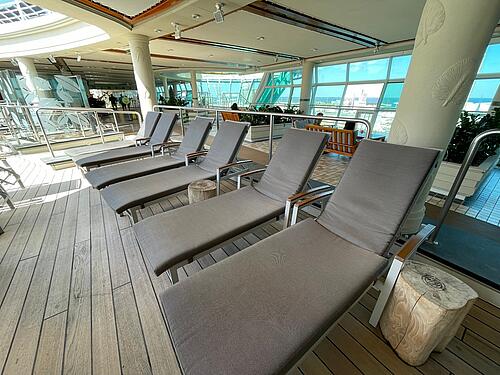 For this cruise, we have reserved Promenade View connecting cabins.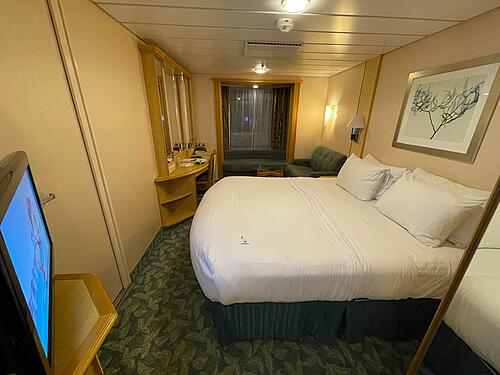 One of my favorite family cruising tactics is to book two connecting cabins, rather than one large room. We get a separation of children and an additional bathroom.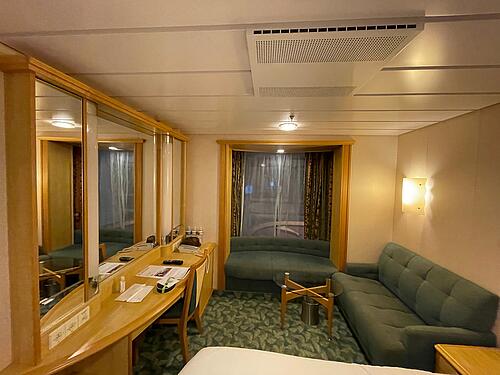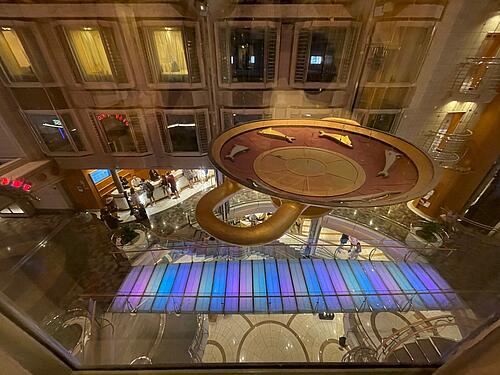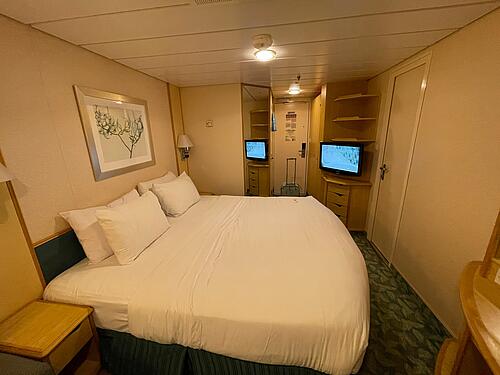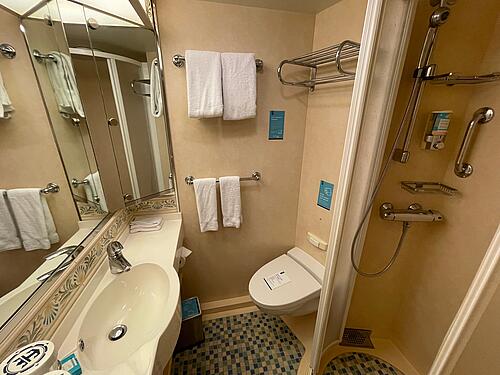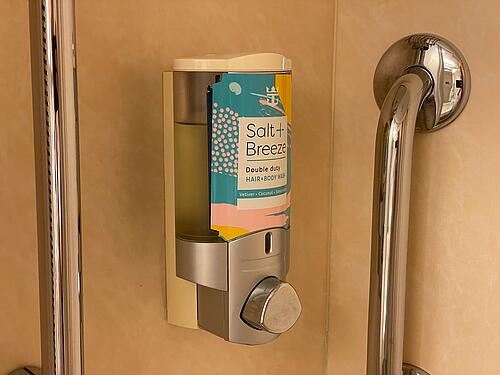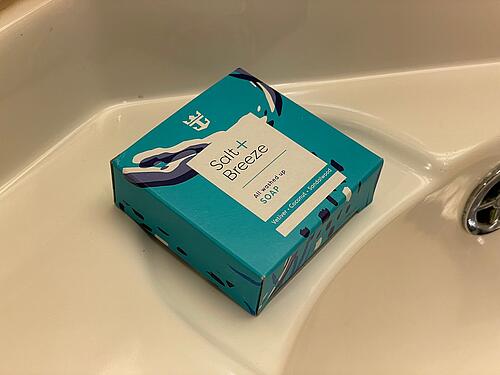 Since we booked this cruise a few months ago, the prices were much cheaper for this category, so an inside cabin is fine for a quick weekend cruise.
Once the rooms were ready, he was back on the pool deck to enjoy the afternoon sun and the sail.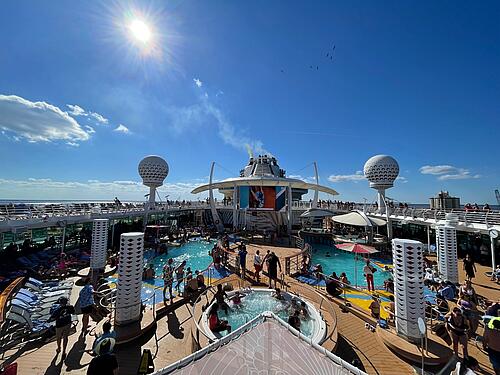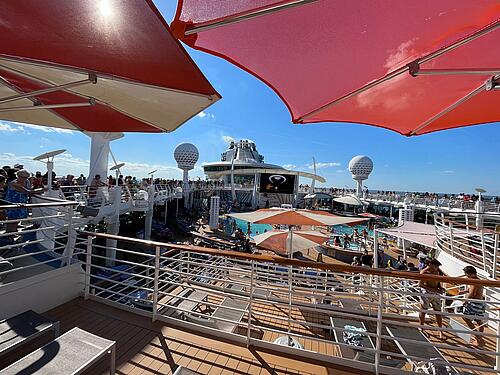 The weather was absolutely fantastic and we enjoyed sunny skies for our departure, along with many other party-ready guests.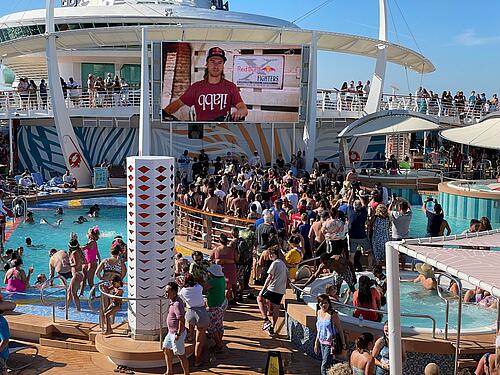 Dinner took us to Giovanni's table.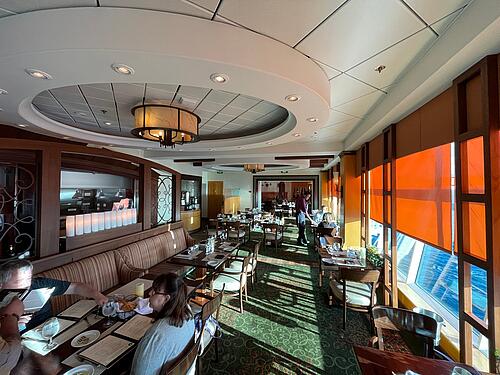 It's still the "old" Giovanni's Table menu (not the new Giovanni's Italian Kitchen), but just like on Allure of the Seas last week, it was great.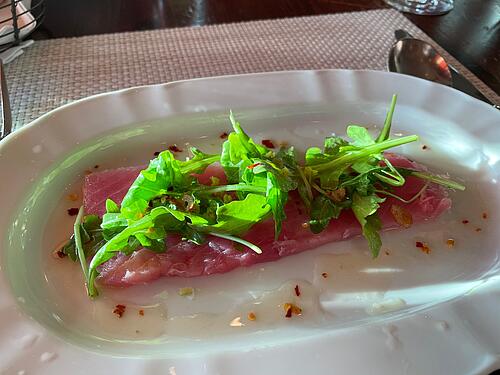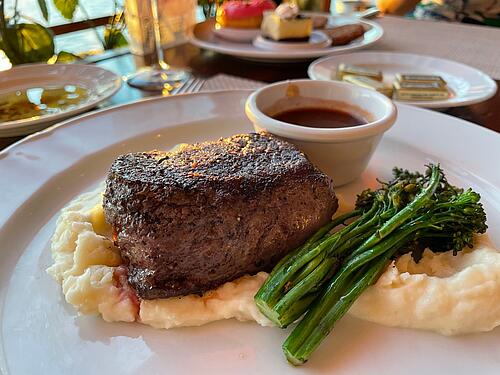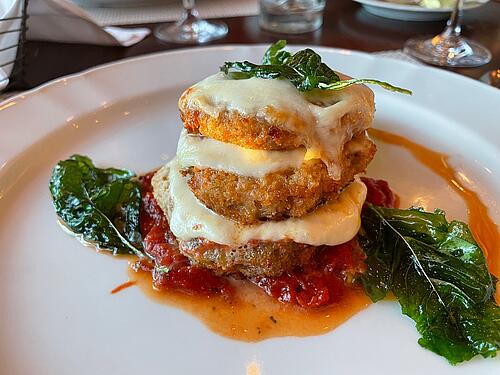 We were also treated to a beautiful sunset from our table.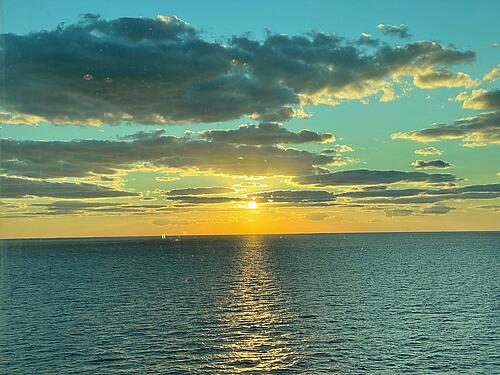 After dinner we had a drink at Boleros, where Michael served a drink in a very unique way.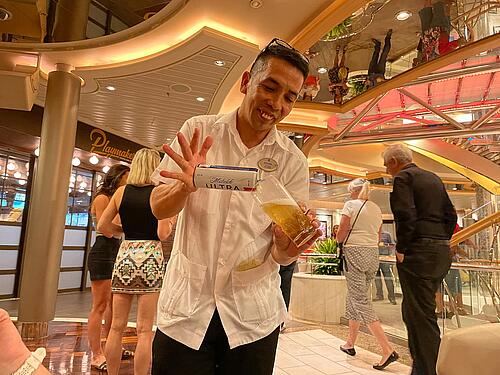 This brings me to using the new Starlink Internet which is now available on Independence of the Seas. Overall, it works great when browsing the web, checking Facebook and so on.
Just like before Starlink, it will sometimes struggle to wait for something to load. We also attempted to stream the Mets/Padres playoff game via MLB.TV and our cable provider web portal. The live stream held up about 50% of the time, with lots of buffering. This could be because too many people are also using wifi, poor connectivity to the nearest router, or something else.
In my experience, there are so many variables on the cruise ship that can affect internet performance that it's hard to assign blame.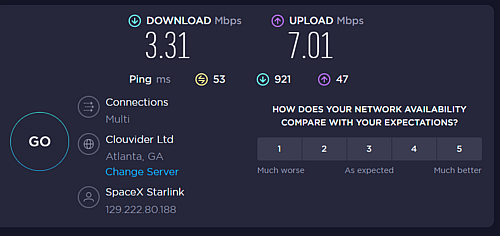 The good news is that the internet is significantly faster than what Independence had before, so it's definitely an upgrade. We'll see how the rest of the cruise goes in terms of performance.
Back to the fun cruise we went to the Schooner Bar as the pianist started there first and there was a big crowd for the show.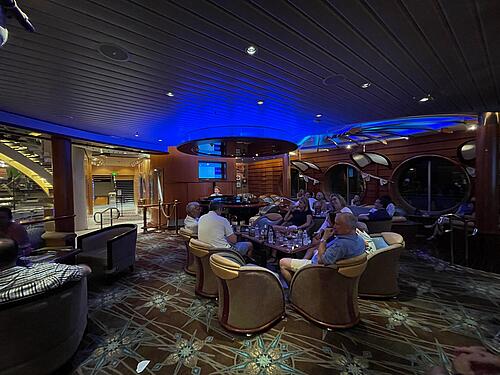 We ended the evening at the pub with live guitar music.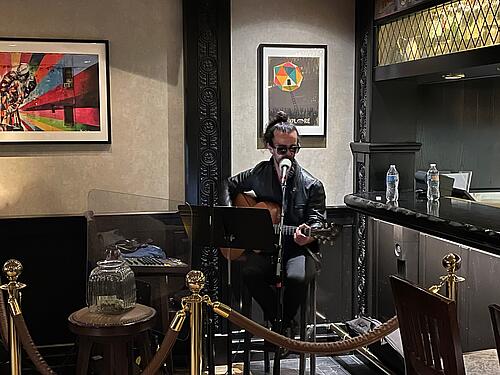 Tomorrow we will be at Perfect Day at CocoCay.
Spurious observations
I don't recall seeing those wooden tables in the sundeck on this boat or any other.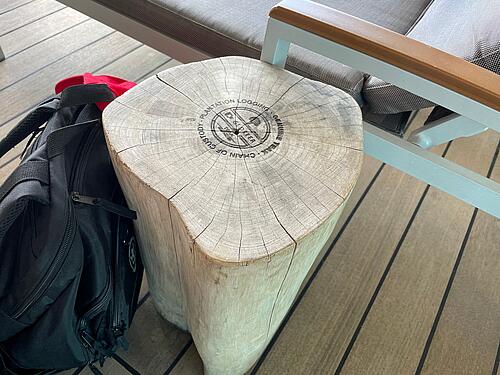 We stopped at Cafe Promenade and noticed they also had the new Starbucks drinks available here. This means that if you have a Diamond drink voucher or an unlimited drinks package, you can get drinks here included (unlike the Starbucks kiosk).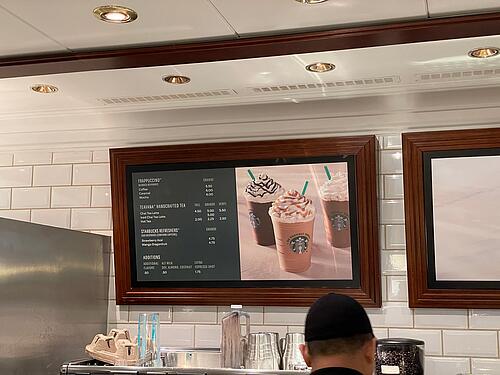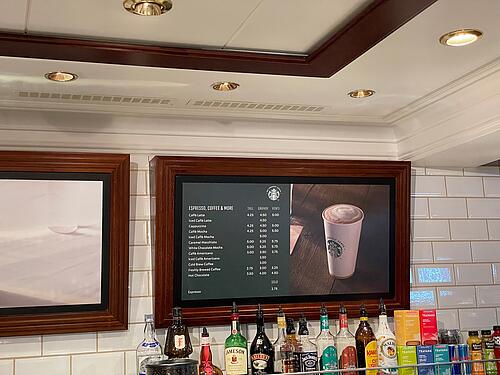 A weird thing about our Promenade View cabin is that the phone is on the desk and not by the bed.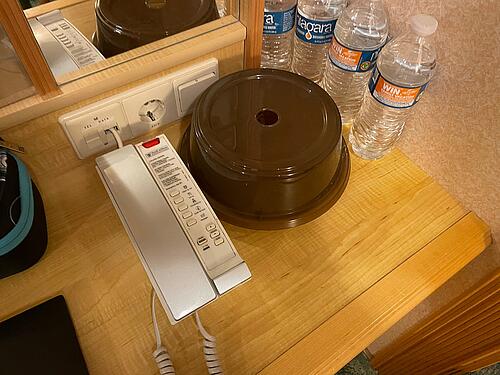 [ad_2]
Source link