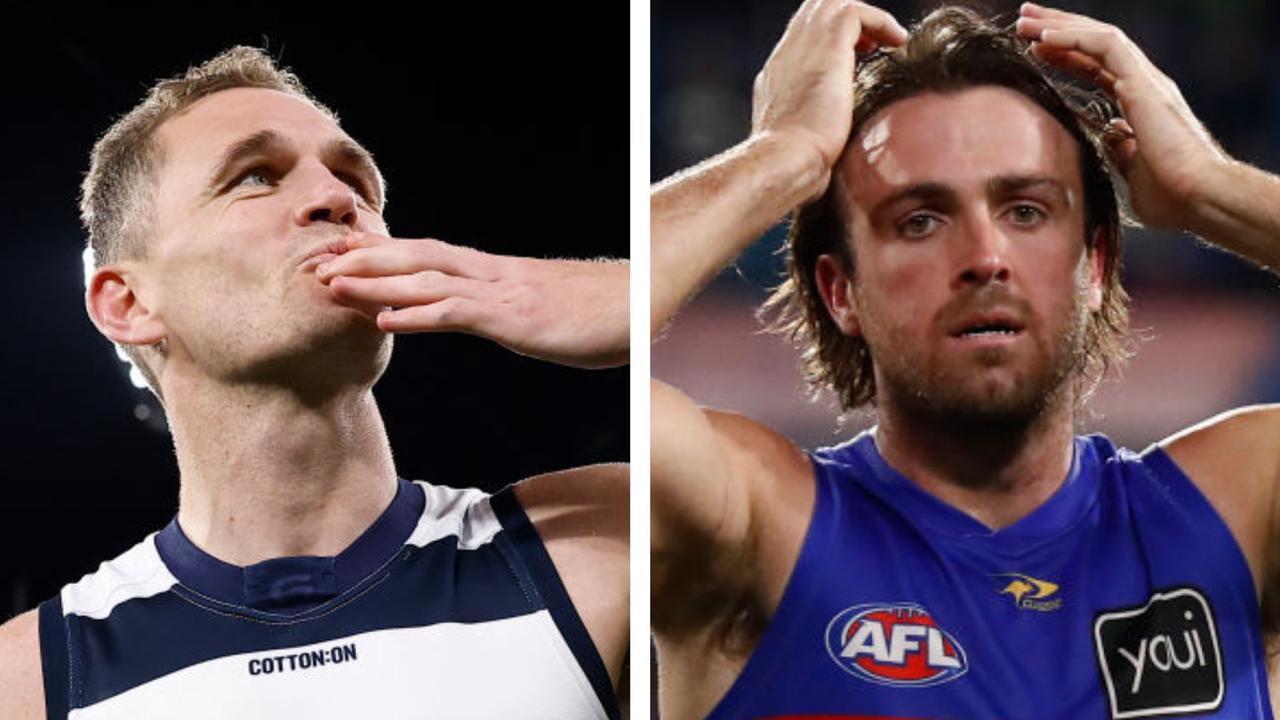 Geelong Cats v Brisbane Lions, Preliminary Final, Live Blog, Live Scores, Updates, Stats, Video, Stream, Result, News
[ad_1]
Geelong qualified for their sixth Grand Final since 2007 after a 71-point comprehensive Preliminary Final against the Brisbane Lions.
The Cats witnessed the opening rebound, including a dominating start from Patrick Dangerfield, who finished best from the field with 28 takedowns and two goals.
Chris Scott's side remained in control for most of the first half, but it was a seven-goal blitz in the third quarter where they really pulled ahead, eventually winning 18.12 (120 ) at 7.7 (49).
Watch every AFL blockbuster match up to the grand final live and ad-free live on Kayo. New to Kayo? Start your free trial now >
"It's a whole different Geelong, and whoever watches them is going to be a very, very good footy team," Demons great Garry Lyon told Fox Footy after the game.
It was the Lions' second-lowest score in Finals history and the worst playoff score since 2000, when they withdrew in September.
The Cats will be hoping to win their first premiership since 2011 against Sydney or Collingwood and repair their post-season shortcomings of late, including four preliminary final losses and one grand final loss since 2016.
Although in a sour note for Geelong on the night, youngster Max Holmes suffered an apparent hamstring setback as a potential grand final storyline despite Scott saying after the match that the club were " optimistic", he would be fine.
"They've had a sensational home and away season, they've played two very solid finals and they're as mature as any team that comes into a grandma," said the former Collingwood manager , Nathan Buckley, about Geelong.
Mitch Duncan (26 touches, 10 points), Tom Hawkins (four goals) and Tyson Stengle (three goals) were also massive for Geelong against Brisbane an equal performance across the board.
As pointed out, the Cats' shift to a more direct offensive game plan has been monumental in propelling their run as they now enter next week's decider full of confidence and favorites regardless of opponent.
It is the club's best opportunity yet to win a flag with the current crop with Jeremy Cameron, Tom Stewart, Hawkins, Dangerfield and veteran skipper Joel Selwood, who will star in a record 40th AFL final/ VFL next weekend, following their dominant season as minor premierships.
"They are a different group, they are a different group. The staff is different and the style of play is different. It was built for now, it was built for tonight and for next week," Saints champion Nick Riewoldt said.
"I thought we had a great glimpse of what it looked like tonight with Geelong, their ability to take the foot from pitch to pitch was breathtaking at times.. the class divide was huge . They are by far a better team.
QUARTER BY QUARTER MATCH REPORT
first quarter
There were no late changes on either side, with Mark O'Connor (Geelong) and Rhys Mathieson (Brisbane) named as medical substitutes.
Geelong got off to a perfect start after Patrick Dangerfield took a brave mark running with the flight before really kicking out.
It appeared that Jarrod Berry got the mission on Dangerfield to start the contest, while Tom Atkins took care of Lachie Neale during stoppages.
"Fierce in tight as you'd expect," noted Channel 7 commentator James Brayshaw.
The Lions responded with the game's second goal as Lincoln McCarthy netted a long set-piece against his former side.
Brisbane settled in well from there to create a real showdown at the MCG.
Tyson Stengle was next to step in with a brilliant chase tackle before delivering a tricky banana kick from the boundary and celebrating appropriately.
Dangerfield continued their strong start with a game-high second goal among eight eliminations to start the game.
"He's on, Danger, and he looked like he was from the first second," Brayshaw said. "(He's) been huge."
The Cats had a period of dominance in the first term with 10 straight punts to build momentum.
Max Holmes pinged Darcy Wilmot for holding the ball directly at the quarter-time siren and broke the goal around his body.
He saw Geelong lead by 14 points in the first break, 4.2 (26) to 2.0 (12).
second quarter
Brisbane delivered the opening blow in the second quarter, Zac Bailey firing a high free-kick and nailing the set-piece from long range.
Hawks legend Luke Hodge noted the Lions were playing more conservative from their surging style against Melbourne when they had to come from behind.
"Last week the Lions just took him in the middle, just sent him back into space because they were 20 points down at halftime. They are a bit more cautious tonight," he said on Channel 7.
Eric Hipwood dropped a half-time mark at the worst possible moment, turning it over as Geelong then hit the scoreboard through Gary Rohan.
Gryan Miers made it two in a row to extend the Cats' lead to a game-high 20 points after finishing one game under 50 points.
This prompted AFLW star Daisy Pearce to ask the Lions to replace Geelong's loose player behind the ball so Chris Fagan's side can start moving the ball faster at under 50.
"It's critical moment here now, 28 point margin, Brisbane just need to come back up a bit. Don't let this get out of hand…it's a tough time for the Lions," Taylor said.
Geelong had several more chances to extend their lead at the end of the first term, but Tom Hawkins missed a few chances.
The Cats still took a 30-point overall lead into the main break, 7.7 (49) to 3.1 (19).
"The Brisbane Lions need to equalise, they need to find a way to even the numbers," club great Alastair Lynch told Fox Footy at half-time.
Magpies legend Nathan Buckley added: "Systematic dismantling of Brisbane's game by a side who were able to beat them in every facet."
Third quarter
Stengle gave the Geelong fans early cheers again in the third quarter, netting a tricky goal from the boundary to extend his side's lead to 37 points.
Shortly after, Cam Rayner suffered a nasty twisted ankle and had to be lifted off the ground into the coaches hand. While it looked like the Lions striker was likely to be substituted, he returned later in the quarter after passing a fitness test.
Charlie Cameron gave the Lions momentum with a crucial goal, but Hawkins scored his second major of the night after a series of misses to extend the Cats' lead to 37 points.
Gary Rohan put in another for Geelong as their lead was suddenly 35 points, including a 10.10 kick.
Rayner came out later in the quarter and his day was officially over, replaced by Rhys Mathieson.
Injury then hit the Cats as Max Holmes appeared to twist his hamstrings, coming off the floor clearly unhappy in what looms as a big story of final heartbreak.
Geelong scored the next two goals, including one from Joel Selwood, to get Cas fans on their feet to cheer on their skipper.
The home side eventually finished with seven goals in a dominating third-quarter blitz to blow their lead to 63 points, 14.11 (95) to 5.2 (32) in three quarters.
Fourth trimester
Geelong kept their foot in the pedal in the fourth quarter, with Cameron and Hawkins scoring the first two goals to blow the margin to 75 points.
Cats fans were so happy on their side that a rare "Geelong" echoed through the MCG in the fourth term.
And Chris Scott's side continued to perform at their best, including Bradley Close finishing a brilliant game from start to finish.
To Brisbane's credit though, he didn't throw in the towel with everything against him, scoring a couple of fourth-term goals against Grit.
The one-sided scoreboard prompted the Cats to retire their stars late in the game as Tom Stewart, Selwood, Hawkins and Cameron watched from the bench to rest for next week's Grand Finals.
Relive Geelong v Brisbane in our live blog below!
[ad_2]
Source link