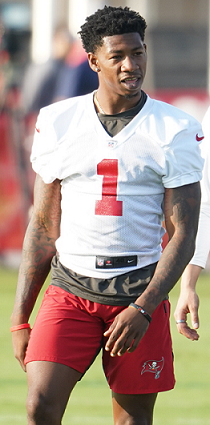 Fitness Warrior Jaelon Darden – JoeBucsFan.com
[ad_1]
In 2017, there was a lot of love flowing from One Buc Palace for the way running back Doug Martin ran into an official team sandbox during April training.
For some fans, not Joe, it gave hope that the Bucs, returning the fourth-worst rushing offense (yards per carry) in the NFL, did the right thing by not recruiting one of the many prospects quality running back in this year's draft.
The hope was that Martin would return from his impending suspension return in September to his 2015 Pro Bowl form.
Reality had other ideas. Sandbox dominance and a good shirtless appearance didn't translate to Martin reviving his career. He just repeated the 2.9 yards per carry he had in 2016, while rookie Alvin Kamara electrified the league with 1,552 combined yards rushing and receiving with 13 touchdowns.
Joe remembered the Sandbox Hamster today when Bucs head coach Todd Bowles noted how second-year wide receiver Jaelon Darden kicked ass during the Bucs' Phase 2 conditioning program there several weeks old.
Bowles has praised Darden's ethics and performance since the players returned to work in early April.
"It's not just today, I think he had a good offseason. His Phase II was outstanding – his OTAs were great and he's picking up where he left off," Bowles said.
Joe isn't sure where Darden "left off," but Darden recently told Route God that he's been working to master the playbook and has come a long way last season as a receiver, even without lots of opportunities.
"I think he's got his head down, he's working, he's fit, he understands the attack and he just lets his game speak for itself. Right now it's going pretty well," Bowles said.
There was a lot of enthusiasm in Bowles' assessment of Darden (relatively speaking, of course, Bowles is a very cold cat at press conferences).
With every quality body vying for wide receivers after Mike Evans, Chris Godwin and Russell Gage, Darden will have to stand out in order to stay clear of the waiver wire.
Of course, the massive X-factor is Tom Brady's confidence. This is harder to achieve than being fit and focused in Phase II conditioning.
[ad_2]
Source link