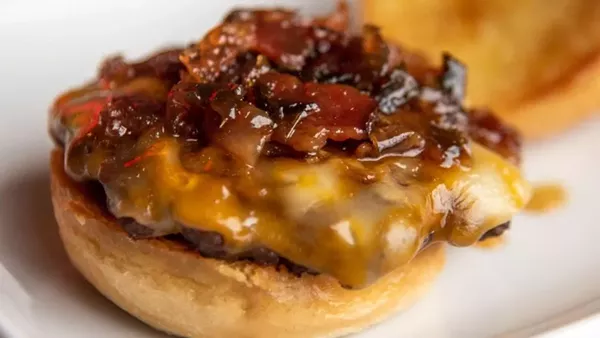 Bluewood Brewing finds new partner in Burger 809
[ad_1]
Burger 809 founder Tasha Smith knows that not all fries are created equal. She's laughing, but she's extremely serious about the extensive research she's done on the partner of her bite-sized burgers. French fries are a new adventure for Smith, as is his new partnership with Bluewood Brewing (1821 Cherokee St; 314-261-4079).
The new partnership was just announced on social media late Wednesday night where the two Bluewood Brewing and Burger 809 took to Facebook to shout out the good news. The grand opening of the partnership is scheduled for January 21 at 11:30 a.m.
Bluewood Brewing hasn't had a mate since Mac's Local Eats closed shop at the brewery in August. According to Grant Lodholz, co-founder of Bluewood Brewing, the brewery had been looking for a new partner since Mac's exit that was not just local, but in the Cherokee Street neighborhood. When Burger 809 was recommended to Lodholz and the Bluewood team, they decided to check it out.
"So, we went there, and it was the best greens and the best sliders we've ever had," Lodholz said. "Not only that, once we realized his food was amazing, we loved how [Smith] treated everyone. She brought so much warmth to the place, and we were like, 'That would be a great addition.'
The conversations between Smith and Bluewood began after those fateful trips. Smith thanks the tight-knit community of Cherokee Street and regulars at Burger 809 for encouraging and supporting the partnership. She also believes the partnership is made possible by the fact that Burger 809 and Bluewood Brewing share similar values, such as the effort they put into their business.
Burger 809 had been operating at 2619 ½ Cherokee Street since early 2019 and has been offering takeout from its premium sliders and sides for a year and a half due to the COVID-19 pandemic. Throughout his time in the space, a small patio was the only way for guests to enjoy their food in person, so the ability to offer dinner seating is something Smith looks forward to now. she has the space within Bluewood Brewing.
"When we were in the restaurant business, we interacted with our customers," Smith said. "And we missed it. So we are really looking forward to providing you with a great dining experience.
In addition to the exciting future of on-site dining for Burger 809, Smith's menu will expand and retain fan favorites. Mac and cheese, salmon, fresh salads, new sliders, their famous Southern greens, and yes, fries, all made the cut. One burger Smith talked about was a collaboration between the brewery and the burger spot: the "Bluewood Baby." Beer cheese using one of Bluewood's brews, ground beef, and a pretzel bun are all the new creation.
When it comes to fries, Smith is doing extensive research on the type that will grace the Burger 809 menu – the company hasn't sold fries since its inception, instead focusing on veg and mac and cheese dishes. of accompaniment. She's weighing her options and hitting the towns to determine if a steak, a crinkle cut, or an entirely different style will work best with the sliders.
"It's a lot of pressure," laughs Smith. "That's a serious question. I'll have to reveal that later. We design all the concepts. We know there's a perfect fry to pair with sliders.
Lodholz — while very excited about fries — is looking forward to restoring trivial and movie nights as safely as possible, with COVID-19 remaining a challenge. He's also excited about the prospect that people can hang around the brewery longer since they'll have food again. Live music is also on the to-do list once the partnership is up and running.
While customers can dine at Bluewood, take-out will also remain an option for customers at Burger 809; a new website the launch on January 15 will allow customers to order online, with the possibility of delivery in the future. Smith is closing the current Cherokee Street location of Burger 809 due to the new deal with Bluewood.
The two partners are delighted to welcome guests to the brasserie; Smith says seeing the employees making the beer you drink is very cool, while Lodholz emphasizes the beauty of the brewery and its new partnership with Burger 809.
"I mean, not to humbly brag," Lodholz laughs. "We're really excited for people to be able to enjoy our place, because let's face it, our faucet room is beautiful."

Follow Jenna on Twitter at @writesjenna. Email the author at jenna@riverfronttimes.com

[ad_2]
Source link