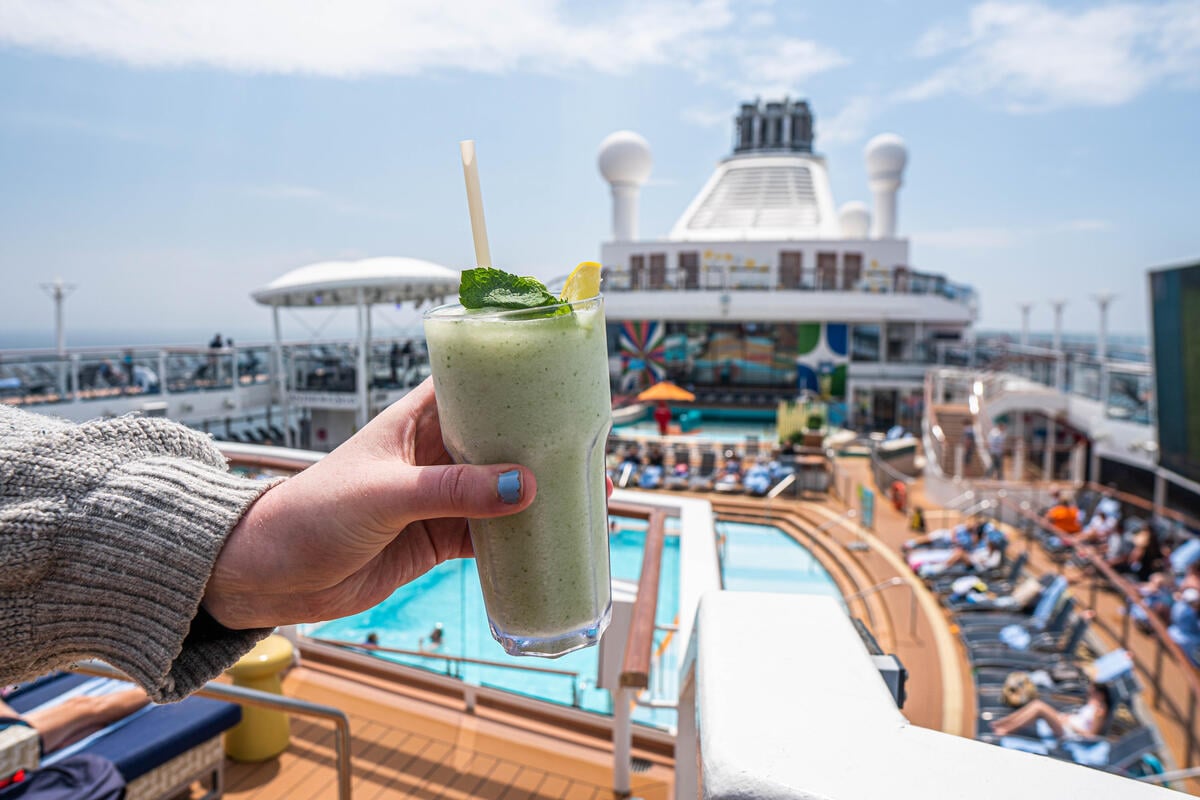 Anthem of the Seas Live Blog – Day 6 – Sea Day
[ad_1]
Today is the sixth day of my first European cruise and we are at sea after 3 busy days in port. Fortunately, Anthem of the Seas offers endless activities to do during a day at sea, and I had a relaxing but fun time on board during my trip to France.
I started my day with a breakfast (dessert?) at the Windjammer, with French toast topped with whipped cream and chocolate chips.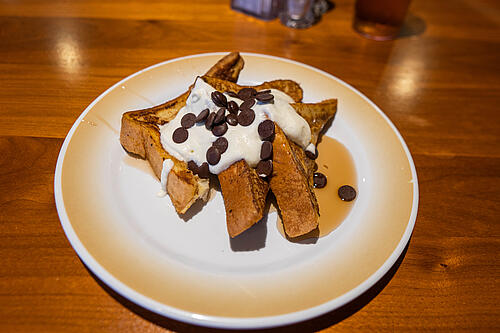 Then there was something new for me: a massage! In fact, I've never had a professional massage before, so I was eager to find out what it is. I pre-booked the 50-minute Aroma Stone Therapy massage in the cruise planner. Since I had never had a massage before, I didn't know what to expect when I walked into the Vitality Spa this morning.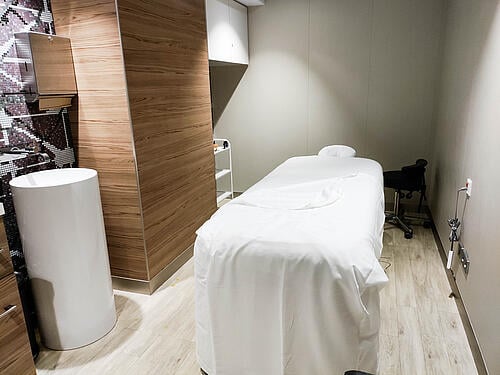 I first filled out a short questionnaire where I could rank my fitness and stress levels, as well as note any ailments or areas I wanted the masseuse to focus on. My masseuse, Ni from Indonesia, brought me to the treatment room where she went over my questionnaire with me before starting the treatment. I was a little nervous as I didn't know what to do or expect, but she made me feel very comfortable.
The Aroma Stone Therapy massage is a hot stone massage, so it includes a massage with both hands and hot stones. Although warm, the stones were not uncomfortable and gave rise to an extremely relaxed feeling.
The massage was definitely worth every penny! At first I was afraid that 50 minutes would seem too short, but it was perfect for a first massage. I'm also glad I chose the hot stone option instead of a standard massage as the hot stones were absolutely delicious!
I had heard that spa treatments tend to end with a boring sales pitch, but the sales pitch I received (for the cream used in the massage) was very short and not awkward. All in all, it was the best start to the day I could have asked for!
I caught up on some work after my trip to the spa. My favorite place to work or relax on board is at Two70 due to the magnificent ocean views that surround the site.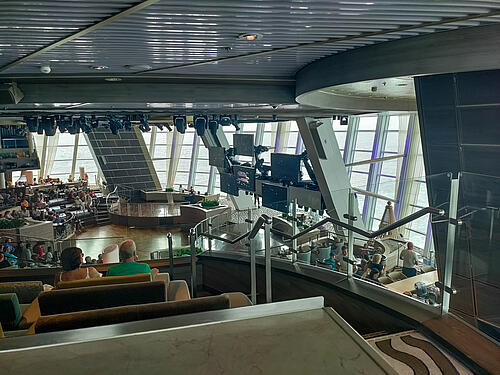 After a quick lunch at the Windjammer, I headed to the pool deck for my new favorite drink: an ice cold mojito. Extremely refreshing and not too sweet, the frozen mojito turned out to be a dangerous discovery on board!
The sun finally came out (a bit) in the afternoon, although the temperature was still quite cool. I strolled around the pool and sports deck to take in the ocean views. I noticed that there were two types of passengers on board: those who tan in bathing suits and those who wear winter jackets!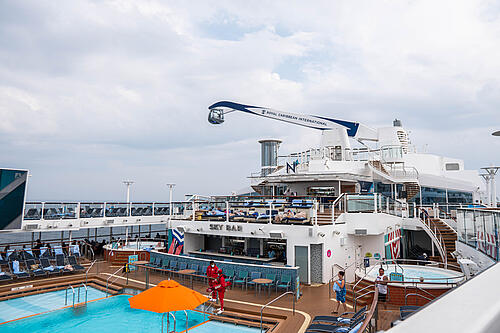 Being a Quantum-class ship, Anthem of the Seas has plenty of interior space, which is beneficial for cruises to colder destinations like Alaska, Norway, etc. With an indoor pool, air-conditioned solarium and the SeaPlex, the weather doesn't have as much of an effect on activities as it can on Oasis or Voyager class ships, for example.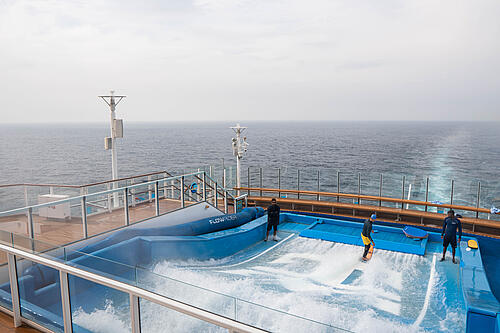 Until now, I've always said that Voyager class was my favorite class of Royal Caribbean ships, but I think Quantum class might be my favorite now! While there are some things I don't like (the lack of a promenade deck as the lifeboats block the view), I love the interior ocean-view spaces like Two70 and the Solarium. They also have interesting routes around the world that you cannot always find with other ships.
Next, it was time for one of my favorite onboard activities: the International Belly Flop Competition. Although I didn't participate, it was undeniably fun to watch the participants try to make the most impressive flop possible.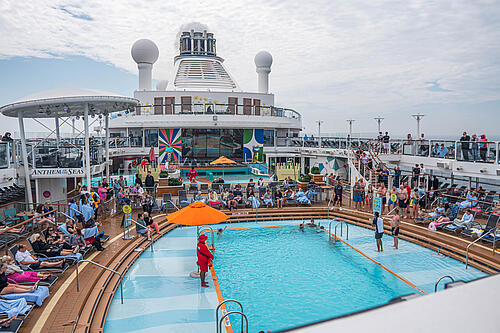 Tonight was a formal evening, and although I often skip a formal evening in exchange for dinner elsewhere on board, Samantha and I decided to get dressed and head to the main dining room. I enjoyed the French Onion Soup, Pasta Carbonara, and the Molten Chocolate Cake, which was my favorite dessert I've had on this sail so far!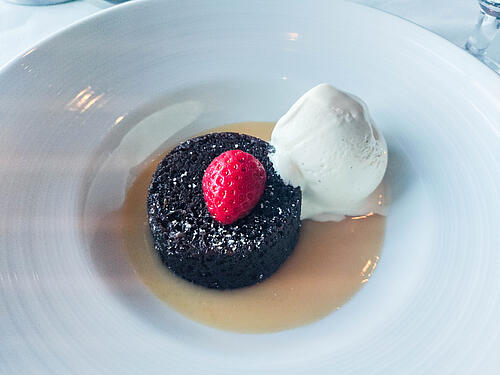 Yesterday I wrote how much I loved We Will Rock You in the Royal Theater so I decided to watch it again tonight! Our seats weren't great yesterday, so we went to the theater early to get some of the best seats in the house.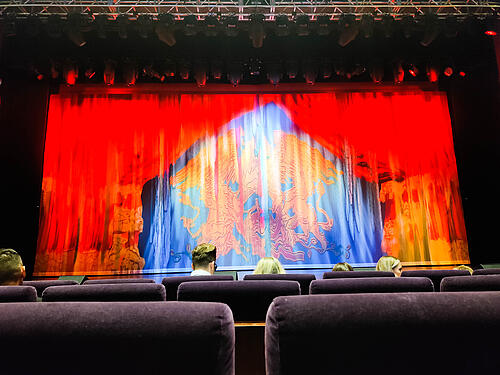 Just like yesterday, the performance was spectacular and it was the perfect way to end the evening. I'm already looking forward to seeing the Broadway shows on ships I haven't sailed on in the fleet yet (Hairspray on Symphony, Mamma Mia on Allure, and Saturday Night Fever on Liberty of the Seas).
This cruise went by so quickly! Tomorrow is already the last day, but I'm delighted to be back in France tomorrow when we dock in Le Havre.
More Anthem of the Seas Live Blogs:
[ad_2]
Source link