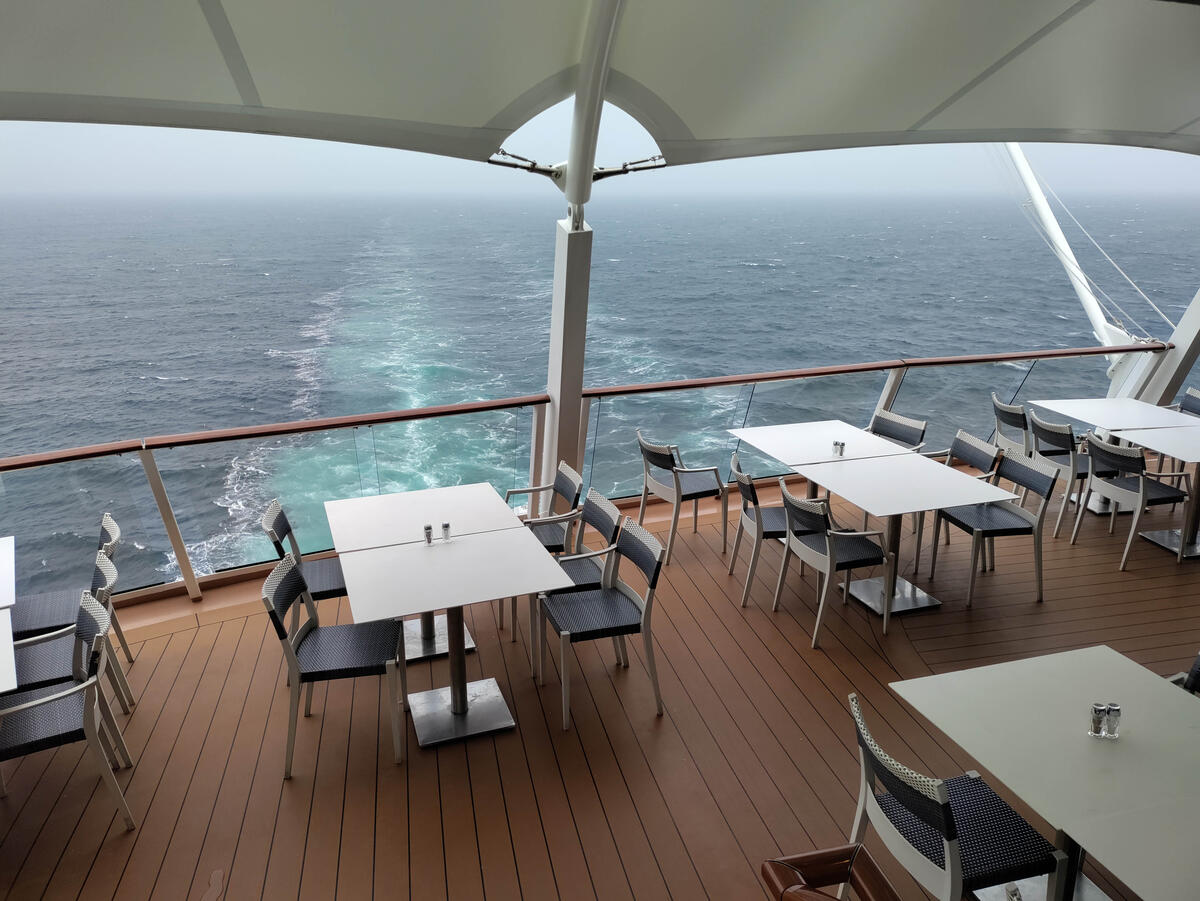 Anthem of the Seas Live Blog – Day 2 – Sea Day
[ad_1]
Today is the second day of my cruise on Anthem of the Seas, and it's a day at sea as we head to La Rochelle, France.
Today we are sailing in the Bay of Biscay, a stretch of sea that has been feared by sailors for hundreds of years. Due to its exposure to the open waters of the Atlantic, the bay often encounters dangerous weather conditions and swells making ports inaccessible.
Although we didn't encounter treacherous seas like many unlucky sailors in the past, the seas were far from calm and the weather was quite gloomy throughout the day. There was no rain, but it was quite cloudy and cold outside. Hopefully we will encounter more sunshine later in this cruise!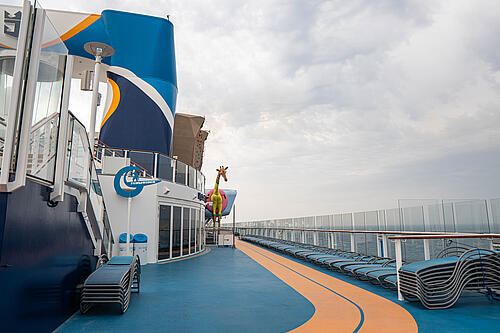 Despite moving west, the ship's time has moved forward one hour today to match the time zone of Spain and France. I calmed down this morning with breakfast at Cafe @ Two70 while catching up on my blog.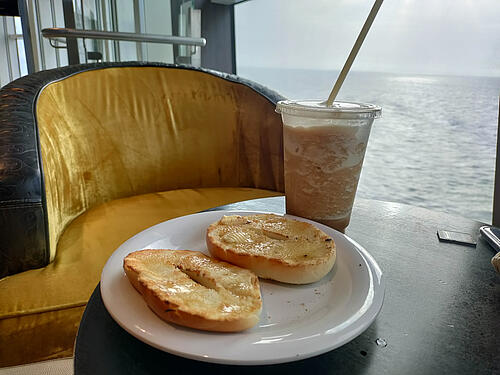 I had booked a midday lunch at Jamie's Italian on this cruise, so I was looking forward to a delicious Italian meal! Although I plan to eat mostly at complimentary restaurants on this cruise, I treated myself and my friend Samantha to lunch at Jamie's with onboard credit that I received when booking the sailing .
Jamie's Italian is my favorite Royal Caribbean specialty restaurant, and we ordered quite a few dishes to try. Our meal started with the black truffle arancini, the ultimate garlic bread and the burrata.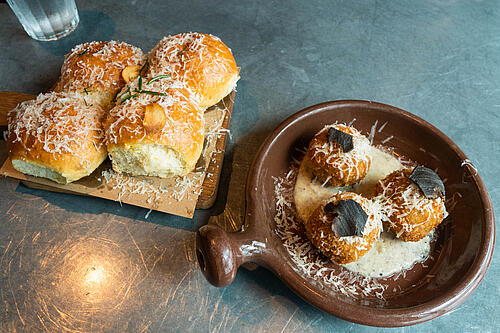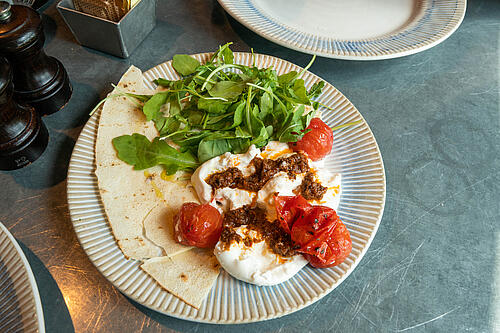 For main, I ordered my favorite eggplant parmagiana and penne pomodoro. Samantha loved her baked lasagna and truffle tagliatelle.
I was far too full, so I took my dessert (Amalfi lemon cheesecake) to take away!
The meal was fairly quick, we were in and out in just over an hour. The food was on par (and maybe even a little better) than Jamie's Italian on other ships, and our server Ronald was fantastic!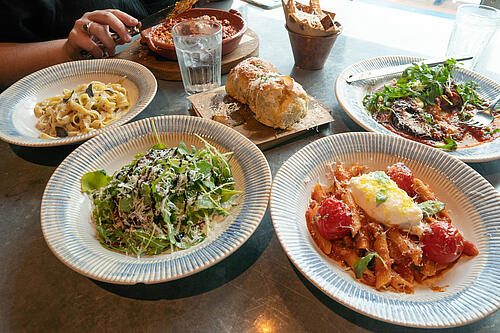 Funny enough, Jamie Oliver himself was on board Anthem of the Seas for the day yesterday to work with staff on training and quality! It really paid off as the meal was delicious.
After lunch, I decided to try my luck with my Crown & Anchor Society free play money at the casino. I quickly turned $8 into $30, but I'm not a big gambler, so I decided to cash out my winnings instead of losing it all.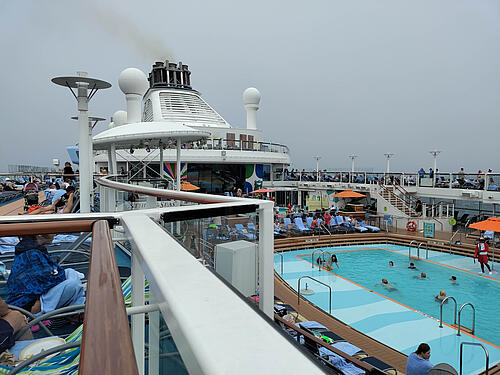 After today's (extra large) wins, I wandered around the pool to get some fresh air. I was expecting the pool deck to be almost empty, so I was extremely surprised to see a ton of guests "bathing in the sun" under the cloudy sky!
I have never seen so many guests on the pool deck on a day of gloomy weather in the Caribbean, so it was fun to see the cultural differences in attitude towards less than ideal weather.
After a few card games in the Solarium, we attended a "Where in the World?" afternoon. quizzes at the Schooner Bar. We were given a series of clues in order to guess where in the world the quiz host was describing. To my surprise, we did pretty well!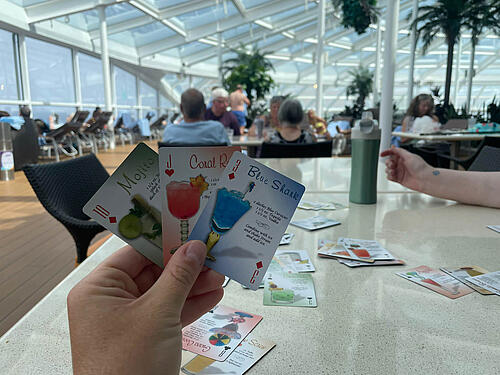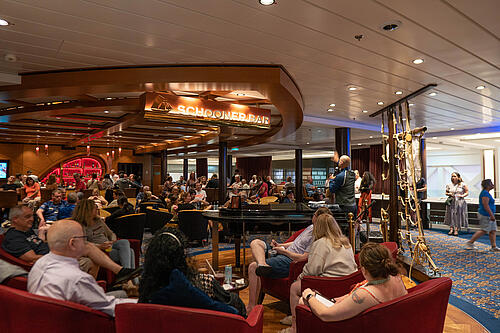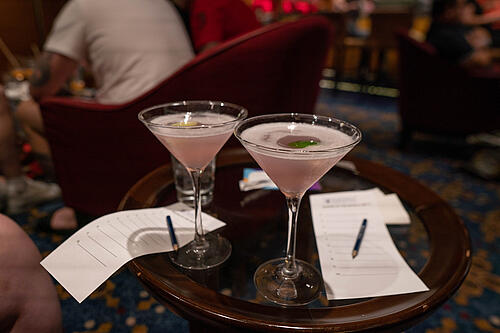 After such a large lunch at Jamie's Italian, we decided to skip the main dining room in favor of a lighter meal at Solarium Bistro.
The Solarium Bistro is a free, Mediterranean-inspired restaurant served buffet style (with main courses ordered via a menu). From hummus and falafel to grilled vegetables and salmon, it's perfect for a quick dinner. Not many people even know this restaurant exists, so it was relatively empty.
Tonight's festivities first brought us to karaoke at Boleros followed by tonight's big band jazz performance at Two70. I love jazz music, and Royal Caribbean always has amazing big band jazz performances, so I was excited to check it out.
Tonight's performance certainly did not disappoint and is my favorite entertainment so far on board. Samantha and I were both in a jazz band all through high school, so we're absolute jazz music geeks! From the excellent improvisational skills of the musicians to watching the guests dance to the tunes, it was a wonderful way to end our second day on Anthem of the Seas.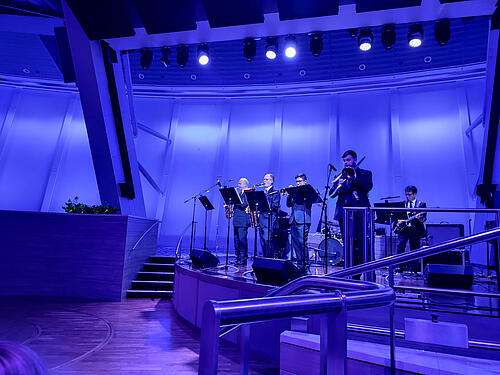 Tomorrow we are moored in La Rochelle, France!
Parasitic observations:
There was a Titanic staircase backdrop for formal night shots tonight.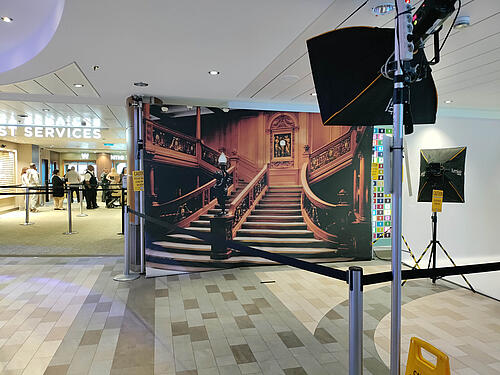 There are no chairs on the promenade deck outside of the smoking area. Usually there are chairs to sit and watch the view, but I didn't see any on this ship.
[ad_2]
Source link